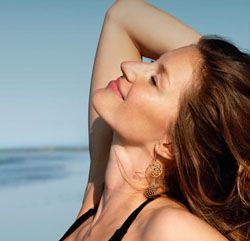 The smooth, flawless skin of a supermodel is now for sale, thanks to the introduction of
Sejaa Pure Skincare by Gisele Bundchen
.
Gisele Bündchen wanted to create a line of natural skincare products that had little to no impact on the environment, and it looks like the model and environmental activist has succeeded in her goal.
Sejaa is 100% natural, and free of parabens, petrochemicals, synthetic or genetically modified ingredients and synthetic preservatives. The products use cosmetic-grade emulsifiers and a proprietary blend of organic plants and compounds that have natural preservative abilities, giving them a shelf life of 24 months.
Sejaa isn't just good for the skin; it's good for the environment too. The line of products comes in "thoughtful packaging with recycled paper." Most packages are recyclable plastics and are 100% recyclable and follow specific guidelines from responsible packaging and manufacturing agencies.
In addition to the focus on environmental responsibility, the website also provides a wealth of information about the company and its founder. Each product in the line, including the day cream, night cream, mud mask and skincare kit comes with a short video featuring Gisele living healthfully.