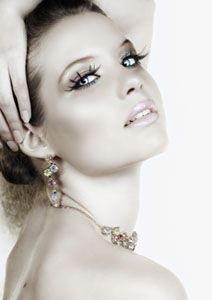 Health & Beauty:
Women around the world have long been seeking the longest, fullest lashes possible. With today's influx of eyelash enhancer products, the ultimate lashes look like they may have arrived. Here's a look at five of the best eyelash enhancers on the market:
Latisse (prescription only)
Latisse is the first FDA approved product formulated to grow lashes longer, fuller and darker. Made from the same company that created Botox and Juvederm, Latisse is only available with a prescription. Women rave about the results, but there are potential side effects, which you should discuss with your doctor. Although any doctor may prescribe Latisse, some doctors may be more familiar with it than others. On average, Latisse runs around $125 and rebates are sometimes available.
RevitaLash
Before Latisse hit the market, women were all about RevitaLash. RevitaLash was first developed by a doctor for his wife, who was recovering from the hair loss side effects of chemotherapy. The eyelash conditioner continues to support breast cancer research, while giving all women the chance to grow full, long lashes. From the original eyelash conditioner, RevitaLash now includes hair growth products, as well as mascara and brow treatments. RevitaLash may take a little longer to kick in than its prescription counterpart, but many find it to be effective, including our own JustLuxe editors. RevitLash starts around $100 for a 3-month supply.

Peter Thomas Roth Lashes To Die For
Peter Thomas Roth Lashes To Die For is one of the most popular Peter Thomas Roth skin care products. The patent pending formula promises longer, thicker fuller lashes. Better yet, the formula is said to help thinning lashes and stop breakage. Success rates seem to vary, but most women have seen some kind of improvement within eight weeks. The eyeliner-like serum is applied at night and has been featured in beauty magazines including Allure and Lucky. The luxury formula comes with a luxurious price tag of $125.

Lilash Purified Eyelash Stimulator Treatments
Lilash Purified Eyelash Stimulator Treatments has a heavy price tag, but it comes with a 90-day guarantee and five months worth of product. Fans of Lilash rave that their eyelashes are so thick that they appear to be false, while false eyelash wearers say that Lilash helps prevent their natural lashes from breaking. What sets Lilash apart from other eyelash conditioners is its promise to be non-irritating, a common problem with these products. Lilash goes for around $140.

Real Lash Conditioning Eye Lash Treatment
Real Lash Conditioning Eye Lash Treatment is more like a mascara application than eyeliner and promises to strengthen and condition your eyelashes as they grow. Unlike other eyelash conditioners, this one works on both bottom and top lashes and users have found it to be highly successful. While your lashes will be looking luxe, at $44 this product doesn't break the bank like some of its cohorts leaving you plenty of spare change for mascara.