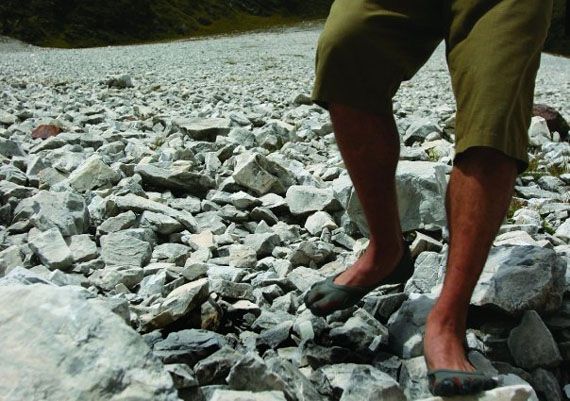 Health & Beauty:
The Vibram FiveFingers sports shoe fits the foot like a glove covers a hand. The shoes provide the feeling of being completely barefoot with just enough protection to ensure safety. There are unsolicited reviews by athletes and medical professionals who agree that wearing a shoe with this shape makes the feet and lower legs stronger and improves balance and agility.
Time
magazine named Vibram's radically shaped sports shoes one of its Best Inventions of 2007. Followers of the toe-glove with a sole are increasing daily, as the company's Facebook page has about 45,000 followers who "like" the company. That number has more than doubled since year-ending 2009.
An adjustable hook-and loop-closure system fits across the instep and behind the heel to ensure a secure fit. While socks are optional, the company also makes form-fitting socks with toe slots designed for the shoes. The slip-ons also are machine washable.

The most luxurious model, the FiveFingers Moc, is made of supple kangaroo leather and comes in blue and black. It is a sports shoe with the soul of a slipper. The Flow and the KSO Trek provide a little more protection. The Flow is recommended for outdoor running. Shoes are available online and at selected retailers.