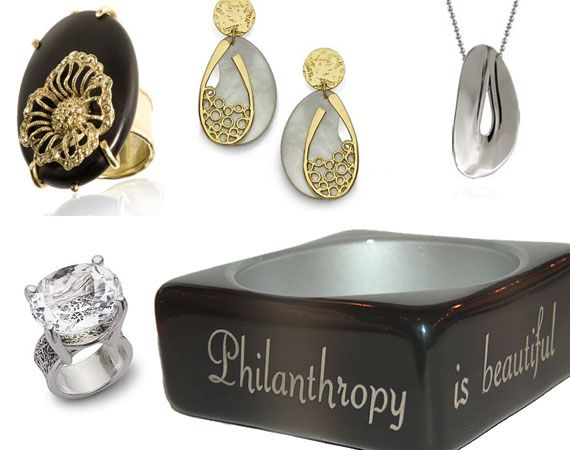 Jewelry for Charity:
Joan Hornig has always been interested in "beauty, individuality and philanthropy," and her
Joan Hornig
line lets everyone get involved.
Buy a piece of Joan Hornig's unique jewelry and 100% of the profits will be donated to your charity of choice. Since 2003, Joan Hornig has continued to grow the list of charities that benefit from her beautiful designs. When you purchase a piece from the collection, not only do you get experience the beauty of a unique piece of jewelry, you also get to experience the beauty of giving back.
Each piece is uniquely designed to make a statement, whether it is a necklace, bracelet, earrings, rings or any of the sundries offered. There's even a "silver lining" collection for those who prefer silver to gold.
Joan Hornig's devotion to beauty and philanthropy has earned her quite a celebrity following, with Brittany Snow, America Ferrera, Cameron Diaz, Lori Loughlin, Eva Mendes and Zoe Saldana and countless other celebrities wearing pieces on the red carpet.
Joan Hornig is a gift that truly keeps giving. Check out her unique collections at
Joan Hornig
.