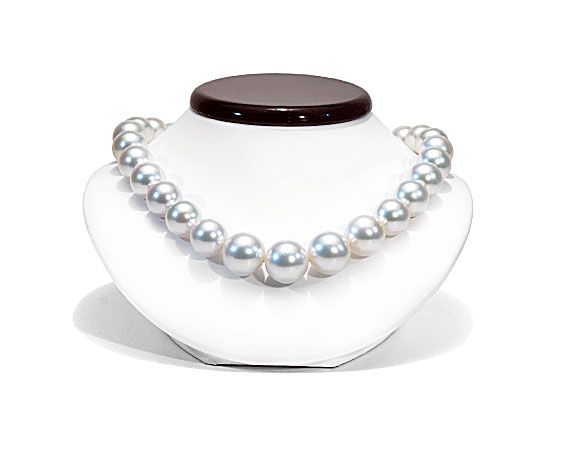 Fine Jewelry:
Those shopping for a staggering piece of statement
jewelry
should surf over to PearlParadise.com, which offers a downright spectacular 18-inch South Sea Pearl Necklace — among the most rare and elusive pearl necklaces on the market.
With a price tag of $42,000, this noteworthy necklace boasts superior AA+ quality golf ball-sized pearls starting at 15.1 millimeters, which then graduate to larger 18.3 millimeters toward the center of the posh piece. This huge strand represents some of the largest pearls produced in the world today.
These Australian South Sea pearls are found in the Pinctada Maxima pearl oyster, which can only be obtained from diving into rare deep ocean habitats and various oyster hatcheries. Pearls this large are rare, but pearls with the strikingly high luster of those in this necklace are even more rare.

The pearls in this strand are very white, with subtle overtones of silver and rose. While some have some very light blemishing, there are no major inclusions or flaws. These pearls are knotted and strung on a thick silk string, so the piece should not break with normal care. The 18-inch strand is finished with a 14-karat clasp of your choosing.

Presented in an elegant box worthy of this generous gift, this necklace also comes with a pearl care kit and a GIA certificate. Visit www.PearlParadise.com to learn more.

Merilee Kern is JustLuxé.com's "The Luxe List" Executive Review Editor. She scours the luxury marketplace for new and captivating product, service and travel "musts." Submissions are accepted via e-mail at Merilee@JustLuxe.com. View all of Merilee's Luxe List articles from here (scroll to page bottom) and follower her on Twitter here: twitter.com/LuxeListEditor.