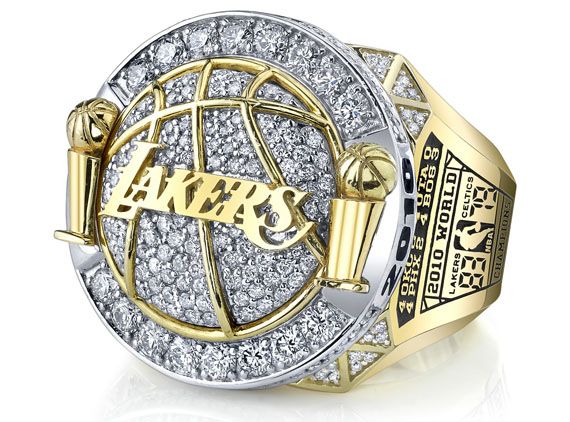 Collectible Rings:
During a pre-game ceremony at the Staples Center in
L.A.
the L.A. Lakers, winners of the 2009-2010 NBA championship, received their championship rings last night prior to the tip-off of the team's first game of the new season. While the Lakers being the league's champs two consecutive years is a feat, Jason's of Beverly Hills being chosen as the designer of the commemorative rings for the NBA's championship team is an equally impressive accomplishment. Both the Lakers and Jason are hopeful for the coveted "3-peat" designation at the end of the season.
Sweet Sixteen is the ring's theme. It is tributary to the team's 16 championship titles. One side of the ring bears the individual player's sculpted image, name, jersey number, and the "SS" caption. A scoreboard reminiscence of Game 7's final score is on the other side. Each ring contains a piece of the actual game ball used in the deciding seventh game of the bitterly contested seven-game series. A piece of leather ball is on the underside of the center of the ring.
The Sweet Sixteen tone is throughout. The ring has two trophies, which signify the team's consecutive titles, that are made from a custom batch of 16-karat gold. Sixteen 16 oversized, round brilliant white diamonds are also incorporated into the design.

Only the most hated team in L.A., the Boston Celtics, has more NBA titles with 17. The L.A.-Boston rivalry is among the all-time best in the history of sports.With Boston adding ex-Laker great Shaquille O'Neal to its team and the Lakers going for its 17th championship, the intensity of this rivalry is sure to heat up.

No pun intended there, Miami.

Source: Jason's of Beverly Hills