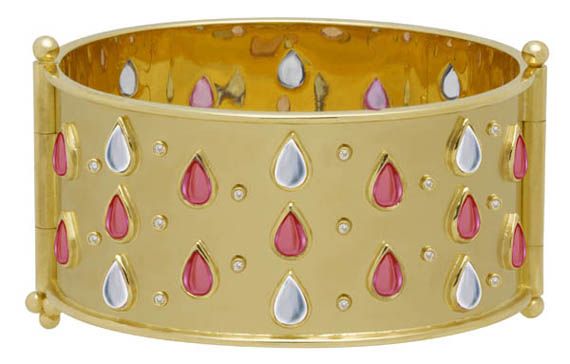 Luxury Jewelry:
Temple St. Clair Carr started her namesake fine jewelry collection in 1986 in Florence,
Italy
.
Her philosophy has always been to create timeless designs of the highest quality, while showcasing the gold work and brightly colored gemstones that the Temple St. Clair line is known for today. "Each object that I create carries the soul of the history of the artisans of Florence", Carr explains.
Come each fall and spring season we can see brand new collections displaying her modern, yet classic style. This Fall 2010 collection takes us on an Odyssey from East to West finding inspiration from the richness of the Persian Empire to the ancient city of Troy in Asia Minor, and the 19th century love of Orientalism.
From signature rock crystal amulets adorned with sultry evil eyes to golden amphora vessels to Victorian inspired gypsy rings, this collection features exquisitely rare rubies, emeralds and sapphires.
Pendants, cuff links, engagement rings, and earrings are just a few of the varieties she offers her clientele. Her rock pendants and collectable cocktail rings have become a trademark to this extravagant line that can be seen in top fashion and luxury magazine worldwide as well as on nationwide trunk shows.

She also puts her signature gold and gems to work for a cause. The Temple St. Clair Dolphin Pendants and Rings come encrusted with gorgeous stones and help in the fundraising efforts to save dolphins in Japan from being slaughtered.
There is also a special edition Harvest Pendant to help raise money for the non-profit organization, Services and Food for the Homeless, which has been providing food and assistance to the homeless for over 20 years.
While the Temple St. Clair collection was exclusive to Barney's at its inception, her jewelry can be found in luxury retailers all over North America, Europe and Asia.
Visit TempleSt.Clair.com to see the latest gift guide.

Temple St. Clair is offering free shipping to JustLuxe readers! Just enter the promotional code JUSTLUXE at checkout... Happy Holidays!