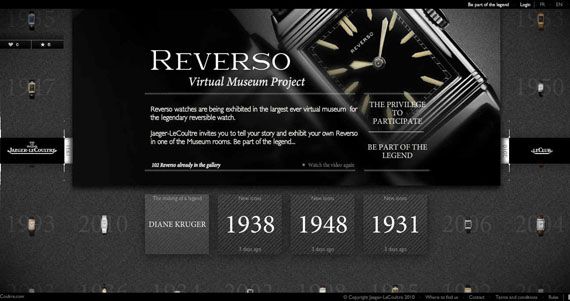 Luxury Watches:
Coming up on the 80th anniversary of the Reverso in 2011,
Jaeger-LeCoultre
is taking a nostalgic look back at owners of this classic time piece and giving them a chance to be remembered.
With its stylish aesthetic, quality craftsmanship, and unique design, the Reverso has made its way to the wrists, and hearts, of royalty, soldiers, and young girls alike. Because of the lasting connections that have been made between Reverso owners and their watches, Jaeger-LeCoultre wants to immortalize these bonds through their Reverso Virtual Museum.
This unique concept allows Reverso owners to share their story and will welcome them into an elite group of legendary people who have loved and personalized their very own Reversos. From King Edward VIII of England who proudly engraved his family crest, to Amelia Earhart who had the itinerary of the first flight from Mexico to New York permanently placed on hers, there is a certain inspiration that comes from owning and customizing a Reverso that Jaeger-LeCoultre wants to celebrate.

After registering your Reverso, the Virtual Museum curator will display the watch, and its story, in one of the many exhibition rooms, making it a part of the rich Jaeger-LeCoultre history. The Virtual Museum allows its owners to upload photos of their Reverso to further personalize the exhibits.
Because Jaeger-LeCoultre knows owning a Reverso is synonymous with owning a piece of art, something that will undoubtedly provoke emotion, the Virtual Museum is the perfect place to capture its legendary features and owner's pride; now and forever.
To register your Reverso visit the Reverso Virtual Museum.