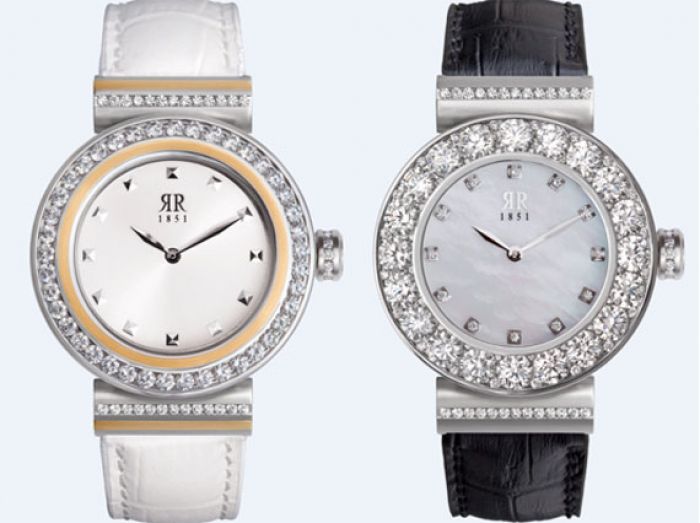 Photo Courtesy of Rohrbacher
Founded in 1851 by Friedrich and Katharina Rohrbacher, Rohbacher has made high-quality watches that have transcended time. Now helmed by fifth generation watch manufacturer, Andreas Rohrbacher, Rohrbacher watches has grown in the 21st century to encompass
luxury watches
and fine jewelry.
Using the finest craftsmanship, Rohrbacher watches have become renowned for their signature "deep diamond setting," a perfectly arranged line of twinkling diamonds set deep into the watch or jewelry for maximum sparkle and eye-catching design. The unique diamond settings can be found on watch faces and a variety of jewelry pieces.
Rohrbacher also has its own diamond cut, the "Dahlia." The Dahlia cut, created by Andreas Rohrbacher, offers more "twinkle" than conventionally cut diamonds. Another special stone cut is the Rohrbacher Deux Ponts Carree cut, which creates an unmistakable star shape in the center of the stone.
The signature craftsmanship and personal attention, as well as the most exquisite jewels and gemstones that have made Rohrbacher so special for well over a century are now available to the masses, with their new website.
In addition to shopping the Rohrbacher selection, you can personalize your choice of three watch designs: Laura, Max 1 & Deux Ponts I - using numerous winders, dials, bezels, lugs and bands in various styles including red gold, yellow gold, platinum, white and black diamonds, inlays and other options.
This year Rohrbacher offered the unique, and now-sold, Specialty 2011 watch with twenty diamonds surrounding the face. The Gemological Institute of America (GIA) evaluated the grade of the twenty diamonds around the dial as excellent, with only a few diamonds in the world receiving the excellent grade. The total weight of the diamonds was around 10 carats, which appear to float on air, thanks to the patent-pending Rohrbacher Deep Diamond Setting.
From their small manufacturing plant in Germany,
Rohrbacher watches
are now available online and several stores are set to open in the United States.