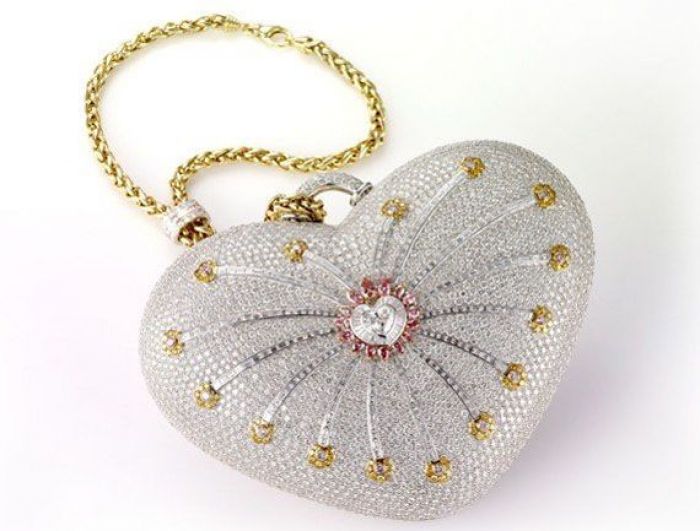 Photo Courtesy of Mouawad
I generally don't write about fashion or jewelery but I will make an exception for a fairy-tale item that I could not possible ignore.

Inspired by one of the world's most classic tales of romance and conspiracy, Mouawad has recently unveiled the the Mouawad 1001 Nights Diamond Purse. Valued at $3.8 million, this fascinating jewel has already taken its place in the Guinness World Records as the most valuable handbag in the world.

"Just as the tales of Scheherazade have captivated readers with their intricately woven plots of uninhibited passion and daring, so the Mouawad 1001 Nights Diamond Purse is designed to mesmerize with its lavish attention to detail and elaborate workmanship incorporating thousands of diamonds," said Pascal Mouawad, co-guardian of the House of Mouawad.

Handcrafted from 18 karat gold, this beautiful, and equally outrageous, heart-shaped purse incorporates 4,517 diamonds (105 yellow, 56 pink and 4,356 colorless) with a total weight of 381.92 carats. Putting together this blinding purse is said to have taken a total amount of 1,100 hours over a period of four months and the efforts of 10 high-skilled craftsmen.

Mouawad - founded in 1890 - is known for its passion for precious gems and mastery in the art of creating some of the world's most breathtaking jewelery. The 1001 Nights Mouawad Diamond Purse is the second awe-inspiring creation from the House of Mouawad following in the footsteps of $11 million dollar Very Sexy Fantasy Bra produced in collaboration with Victoria's Secret in 2003 - certified by the Guinness World Records as the most expensive bra ever made.