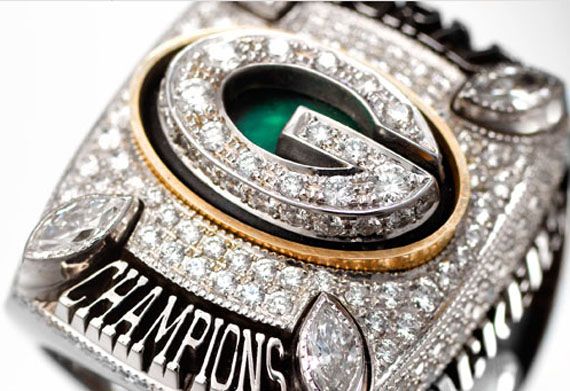 Photo Courtesy of Jostens
The NFL's Green Bay Packers recently received their rings for winning the 2011 Super Bowl. It seems that the unveiling of customized championship rings for professional sports league teams prompts a new season of "Bling-fest," as the introduction of the commemorative jewelry establishes a new benchmark in sparklingly symbolism. The Green Bay Packers' Super Bowl rings did not disappoint.
The recipients of the 18-karat yellow gold rings may need to build up strength in their ring fingers before wearing the 116-gram ring. Each ring contains 3.35 carats of diamonds. The "G" logo at the center of the ring has 13 diamonds which represent the franchise's four Super Bowl championships and nine pre-Super Bowl NFL championship seasons. The 92 diamonds that surround the crest of the ring correspond to the team's 92-year history.
The scores of each of the playoff games won by the Packers, as well the logos of their opponents, are positioned along the inside of the ring. Additionally, the team's mantra for the season "1 Mind, Goal, Purpose and Heart," also is on the inside. One side of the ring features the Lombardi trophy with the individual player's name and number; the other side has a likeness of Lambeau Field, the stadium of the Green Bay Packers.
Minnesota-based jewelry company Jostens, which is the same jeweler that designed the Packers' previous Super Bowl rings, designed this one as well.
"The victory in
Super Bowl XLV
was a great achievement for the organization. Jostens has done a fantastic job of capturing the excitement of the win for everyone at the Packers," said Mark Murphy, CEO and President of the Packers. "The ring also symbolizes the Packers' championship tradition in excellent fashion."