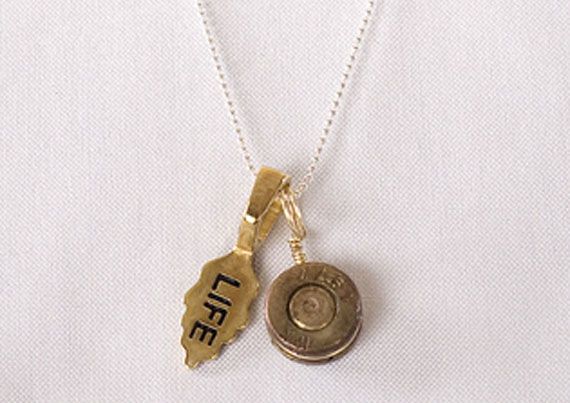 Photo Courtesy of Akawelle
I like a little hardware in my wardrobe - zippers, steel necklaces, bolts fashioned into rings - a few industrial items always give a provocative edge to an outfit. But bullets, actual bullets, is another level of accessorizing, and they seem to be shooting onto the fashion scene. I found two companies making bullets the foundation of their design, and more impressively, both give back to heartstring-tugging charities.


Bullets2Bandages

I can't recall ever stumbling upon a jewelry line started by two ex-Navy bomb squad geniuses, but indeed, that is the story of Bullets2Bandages. After serving as Explosive Ordnance Disposal Officers in the U.S. Navy, Erik Spalding and Cole Evans desired to give back to those affected by conflict. The two U.S. Naval Academy graduates founded Bullets2Bandages.org, which provides individuals with a way to support their country through fashionable purchases.

Each jewelry piece is handmade and includes actual fired ammunition. Currently, every purchase from Bullets2bandages supports the Travis Manion Foundation, which honors a personal friend of Spalding and Evans. Manion, a Navy SEAL, was killed in 2007, and today his foundation assists wounded and disabled veterans, as well as the families of Fallen Heroes.


Who knew ammunition could have diversity in design? The Bullets2bandages line includes antique brass necklaces, brushed silver bracelets, distressed pewter accessories, and more. The "9mm classic ($29.99)" is a wearable piece for women, featuring a 9mm bullet, dog tag and 30-inch chain. My favorite is the bullet bracelet ($49.99), available in five sizes to ensure a snug fit. A clever clasp allows one bullet to be removed for easy on-and-off ability and this maintains a seamless pattern around the bracelet-quite thoughtfully.


For the boldest of dressers, which I can't count myself as, Bullets2Bandages offers a "Britney Spears Bullet Belt ($149.99)." It's unclear why Miss Spears is associated with this design (perhaps she wore it?), but if bold and seductive is your desired look, this belt is your sharp shooter.







Akawelle

When Angelina Jolie wears your piece of jewelry, you know you've made something big. Lovetta Conto, the designer of Akawelle, is just seventeen years old. Still, her novel jewelry line has captured the attention of an international crowd, as showcased in O magazine and on CNN. As a refugee from Liberia, Conto often couldn't pay for schooling but was determined to get her education. Eventually, Conto was chosen as the first Strongheart Fellow of the Strongheart House, a "home and center of healing, learning, and excellence for gifted and talented young people from the developing world either displaced or orphaned by war or other circumstance."

Today, Akawelle, meaning, "which also stands for life," sells a line of necklaces, each hand crafted with retrieved shell casings. A man named Richard Sumo collects the casings from the ground in Liberia, still littered with casings from the war in 2003. Conto then buys the casings and creates the leaf pendants stamped with the word, "life," and loops the leaves with a metallic bead, the actual bottom of the bullet shell. My favorite is the 16-inch Akawelle necklace, fashioned with 1mm sterling silver ball beads ($90).


Conto notes, "I chose the word 'life' to be inscribed into the leaf to remind myself that new life can begin after hardship. It is even possible for new life to arise from something as terrible as war." International shipping is well handled by Akawelle and all purchases come packaged neatly, ideal for gifting.