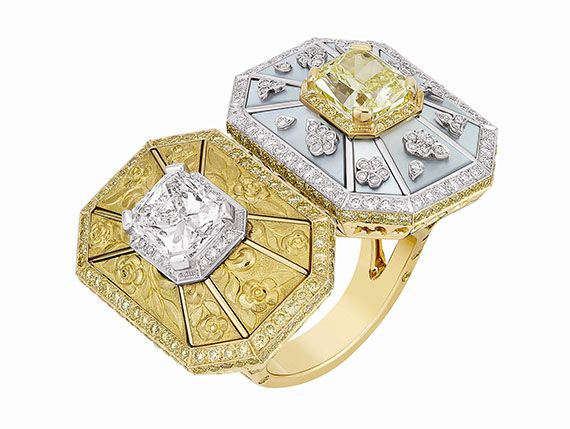 Photo Courtesy of Chanel
The line of
fine jewelry
from Chanel long ago established itself as one of elegance and class, and their newest collection furthers the embodiment. Contrastes de Chanel will be the youngest addition to their offerings, and the line follows its definition by being at once fluid and structured. Bold black, soft white, and rainbow of colorful hues is found harmoniously paired together on many of the pieces, making them as versatile as they are beautiful.


A wide array of gemstones is found in the Contrastes de Chanel collection, with many different cuts and colors for a truly wearable line of fine jewelry. "All these juxtapositions bear a palette of emotions and new sensations. These gemstones so dear to Gabrielle Chanel unveil themselves to the light of a new day and are magnified by a surprising play of reflections and nuances. Stunning materials and colors set the tone for a new and audacious collection and together compose a totally new symphony of jewels in softness and power, femininity and spirit," says Chanel.

Those nuances referenced by the company are deconstructed in the video below, which shows the painstaking attention to the most-minute details that goes into each piece of jewelry created by Chanel. The jeweler is creating the Soleil d'Automne Ring, which is just a part of one of the many sets that makes up the larger collection.

For more information about the full line of Chanel's fine jewelry, visit Chanel.com/Jewelry and keep an eye out for the Contrastes de Chanel collection in stores and online.