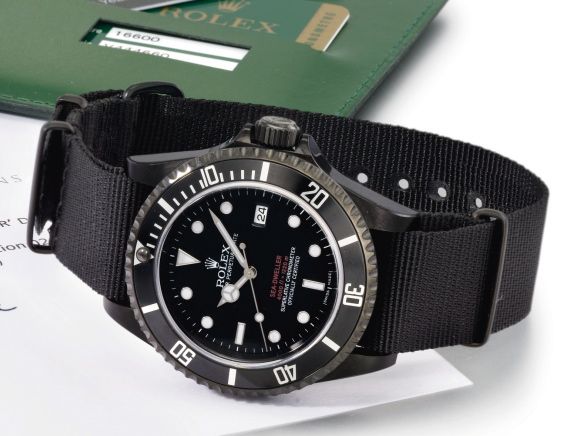 Photo Courtesy of Christie's
Two extremely rare and important Rolex watches worn by Sir Roger Moore, who played James Bond in seven films from 1973 to 1985, will be offered at Christie's
Important Watches
sale in Geneva on November 14.
One is a bespoke Rolex Submariner worn by Moore in 1973's
Live and Let Die
, his first Bond film, the other a bespoke Rolex Sea-Dweller (above) made for the legendary actor in 2009 by
Project X Designs
, the world's leading Rolex customizer that's also a favorite of the latest 007, Daniel Craig.
The Submariner (right) has been estimated at up to $450,000; no estimate has been given on the Sea-Dweller, but considering its provenance we expect it to bring in six figures as well, with proceeds from the sale going to UNICEF. In the movie, the Submariner doubled as one of Bond's most famous gadgets, equipped with a hyper intensified magnetic field powerful enough to deflect the path of a bullet, and a rotating buzz saw bezel. However because of the modifications needed for the movie it does not actually tell the time.
The Sea-Dweller, dubbed the Sir Roger Moore Edition, is altogether more practical. One of two Rolexes customized for the actor by Project X, the other, a Submariner, remains in his possession. It features a bespoke black DLC (Diamond Like Carbon) coating, "Double Red" dial text and a specially engraved case back. It comes complete with a signed copy of Moore's autobiography, and a letter from Moore regarding his original commissioning of the watch.
Project X, based in London's Mayfair, was founded by Daniel Bourn, a former investment banker who developed an "obsessive compulsion" for collecting rare, modern and vintage
luxury watches
. Their collection of customized Rolexes includes several "stealth" designs paying homage to original James Bond and British military models.
The Limited Edition customizations of original Rolex watches created by Project X Designs afford watch collectors "a certain individuality combined with a knowing appreciation of the original manufacturer's heritage." Other Project X fans include actor Mark Wahlberg, members of royalty, sportsmen and famed musicians. To learn more about Christie's Important Watches auction go to
Christies.com
.