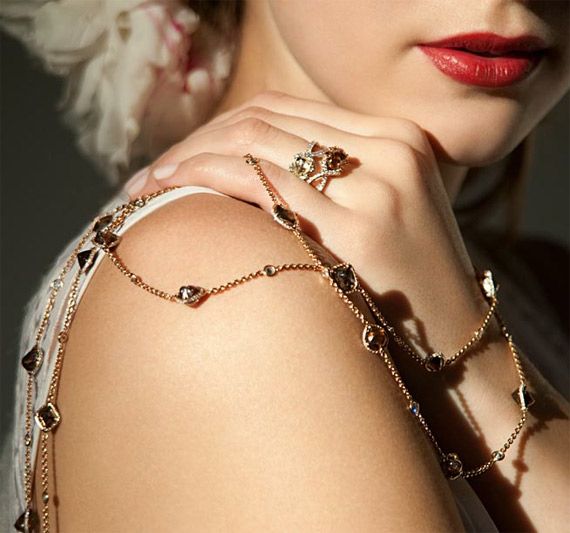 Photo Courtesy of Diamonds In The Rough
Diamond In The Rough is a unique approach to
luxury jewelry design
, featuring diamonds in their natural state that remain unpolished and uncut. The organic beauty of the diamonds is off-set by the polish of the setting, allowing nature's handiwork to take the spotlight. Thousands of rough diamonds are examined, after which between one and three percent are finally accepted to become part of Diamond In The Rough's designs.
Because the diamonds remain uncut and unpolished, each piece is unique and highlights the rare qualities the individual gems possess. The settings of every design are cast to hold the facets of the specific diamond, ensuring that all of the DITR creations are wearable works of art. Classic and contemporary, white and colored diamonds, DITR offers a range of beautiful pieces.
Their bridal collection includes ten unique designs. The classic is DITR's take on the traditional engagement ring, with timeless craftsmanship featuring a diamond encrusted halo encircling the rough diamond center. The DITR signature is a unique engagement setting that holds the organic stone inside a jeweled nest above the slim profile of the ring's base. The Deco option is a bold creation inspired by Art Deco influence with micro pave circles, recalling 20's fashion.
In addition to their bridal offerings, DITR also has four other collections: Exclusives, Champagne Bubbles, Orielle, and Iceburg. The Exclusives feature rare gemstones and settings that cannot be found elsewhere, while the Iceburg collection is the most exclusive and popular among the brand's celebrity clientele. The Orielle and Champagne Bubbles are contemporary collections that combine micro pave and rough cut diamonds to create breathtaking statement pieces.
Most pieces are available in 18 karat pink, white, or yellow gold as well as platinum. To see the full range of designs visit
DiamondInTheRough.com
.