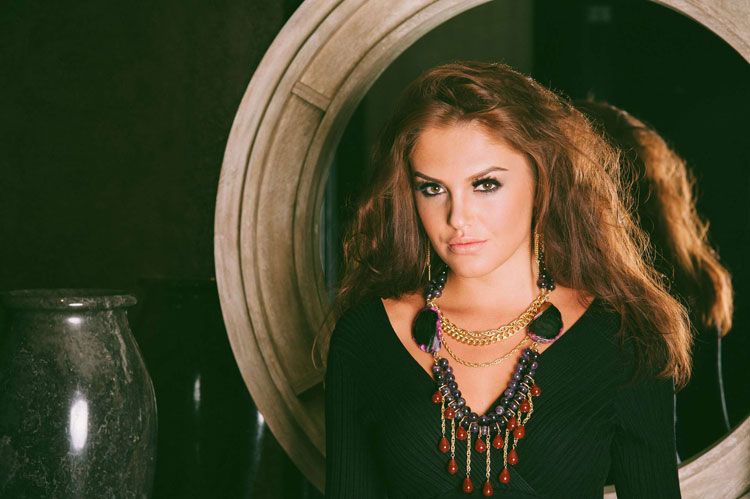 Photo Courtesy of Purple Aura Jewels
The meaning behind the name of
luxury jewelry
brand Purple Aura Jewels is simple: the color purple signifies royalty, and designers Cynthia Whiting and Natara Williams believe that chic, confident women have an intangible quality that distinguishes them from the rest. Founded in 2010, the brand is motivated by and thrives off of those who appreciate jewelry as a form of art. The Phoenix Collection, their latest, is no different, designed with the creative woman in mind.
The brand describes The Phoenix Collections as "a colorful dream filled with uninhibited vision and mythical fantasy," and we couldn't have thought of a better way to put it. The designers' use of semi-precious gemstones like jade, agate, amethyst, and lapis lazuli intertwined with chain and metal create masterpieces that evoke mystery and beauty. While creating jewelry that personifies the many facets of the modern woman, the designers also give back by donating 10 percent of their profits to local and international charities.
Each of the pieces in the Phoenix Collection is unique in its own way. Take, for example, the beautiful Majestic Earrings. The red agate cubes and black agate beads are strung between 18K gold plated brass chains and create a lovely curved silhouette. At $125, these earrings exude culture and will add flare to a simple outfit, while also encompassing the designers' idea of the modern woman being sophisticated and elegant, yet edgy and bold.
One of the first pieces to catch our eyes in this collection was the Indigo Reign necklace. The $585 stunner features faceted black agate beads and lapis lazuli drop beads that fall from large blue agate and crystal infused slices. Add sterling silver plated gun metal and brass chains and you've got a gorgeous necklace that really makes a statement.
If you're looking for something that is not as bold but still draws attention, check out the Paradise Earrings. These beautiful dangles use faceted teal jade that hangs from 18K gold plated and sterling silver plated brass chains. The materials used in these earrings aren't too loud, but the drama that is created by their length will have people talking.
To learn more, visit
PurpleAuraJewels.com.