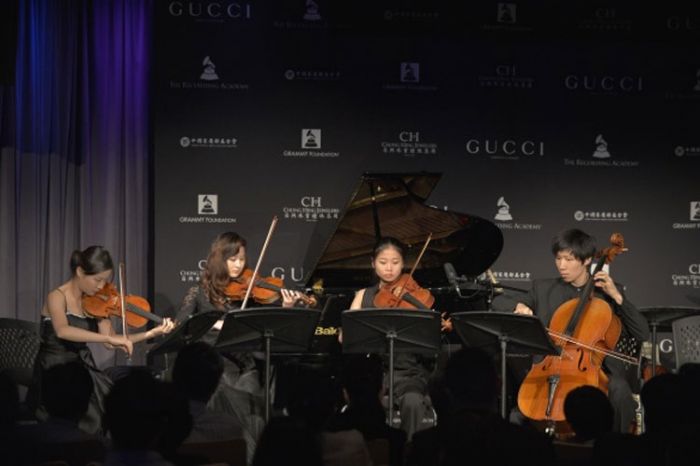 Photo Courtesy of Charley Gallay/WireImage.com
Luxury fashion brand
Gucci has been designing, developing and manufacturing exquisite timepieces since the early 1970s, but another passion close to the brand is music. Earlier this year, Gucci Timepieces & Jewelry in collaboration with China Soong Ching Ling Foundation announced the launch of a philanthropic initiative that would give scholarships to talented students from the most prestigious Chinese music establishments. From there, The Gucci Timepieces & Jewelry Music Fund was born.
The best of these students were selected to be a part of the C.S.C.L.F. ? Gucci Timepieces & Jewelry Music Fund Quintet, which was recently established in partnership with The Recording Academy and the
GRAMMY Foundation
. Students at that program participated in a 10-day residential summer music experience on the University of Southern California campus, where they explored Los Angeles and took advantage of various workshops. One such workshop was the Foundation?s Camp Guest Professionals Day, where artists and music industry professionals conducted Q&A workshops and master classes with GRAMMY Camp attendees ? a once-in-a-lifetime experience for young musicians.
Together with the GRAMMY Foundation, The Recording Academy, C.S.C.L.F. and Chong Hing Jewelers, Gucci Timepieces & Jewelry hosted the program's finale concert, which was performed by members of the C.S.C.L.F. – Gucci Timepieces & Jewelry Music Fund Quintet. Here, we have a special behind-the-scenes video of the camp and the performance which was shot and produced by students who attended the GRAMMY Camp's Music Journalism program.
For more information, visit
Grammy.com
.