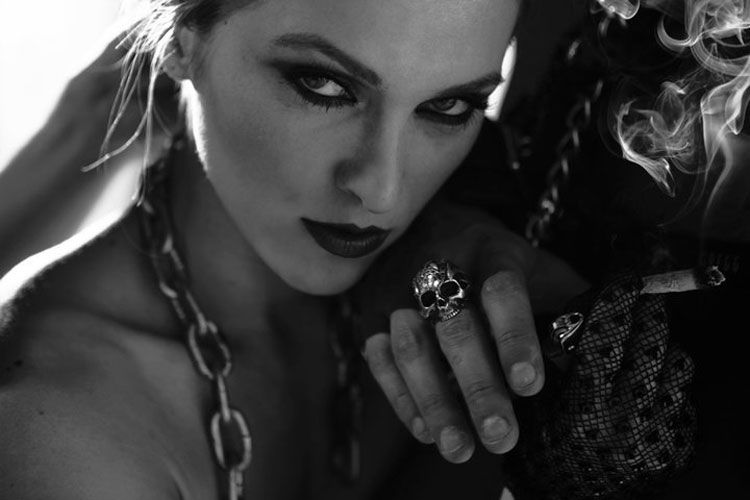 Photo Courtesy of River Clark for Atelier Minyon
Mermaids, spider webs, bullets, bones, and fairy wings— enter the world of
luxury jewelry
designer Alp Sagnak of Atelier Minyon. The brand's flagship boutique in SoHo, New York is their first store opened outside of its native Turkey. For his jewelry, Sagnak melds Turkey's romantic history with modern, unique designs to offer fresh innovative collections. With prices ranging between $2,000 and $50,000, it's no surprise that the designer uses exquisite stones combined with the finest of detail to make truly special jewelry pieces.
Sagnak uses bright 24K gold and oxidized silver combined with a variation of diamonds, black diamonds, rubies, sapphires, and emeralds to make his incredible creations. This can be seen in both his loud, extravagant pieces as well as his more refined pieces, like the Green Sapphire Butterfly Earrings. Rose gold with green sapphires studded with diamonds make up these delicate earrings.
The Eagle Claw Stingray Cuff is another fragile piece that gives you a little taste of Atelier Minyon's luxe and wild sides. The wide stingray cuff features a 24K gold and silver eagle claw. Notice the detail in this piece— the cuff almost appears to be of reptile skin, while the eagle claw element of the bracelet is shaped and studded with colorful fine jewels.
Check out this Masquerade Skull Pearl Ring from the Baroque Pearls collection. For this group of jewelry, Atelier Minyon chooses irregular-shaped pearls to make something that's essentially "imperfect" into something exquisite. The ring itself is made up of 24K gold and silver, topped with a masquerade baroque pearl, and is studded with champagne diamonds.
One thing that Atelier Minyon does best is make completely untraditional wedding rings. Take, for example, the Black Veil Claw Engagement Ring. The fine detail on the band gives the ring a texture that makes it look incredibly realistic. It's the alternative black stone, however, that makes this ring really special.
To view the full collection, visit
AtelierMinyon.com
.