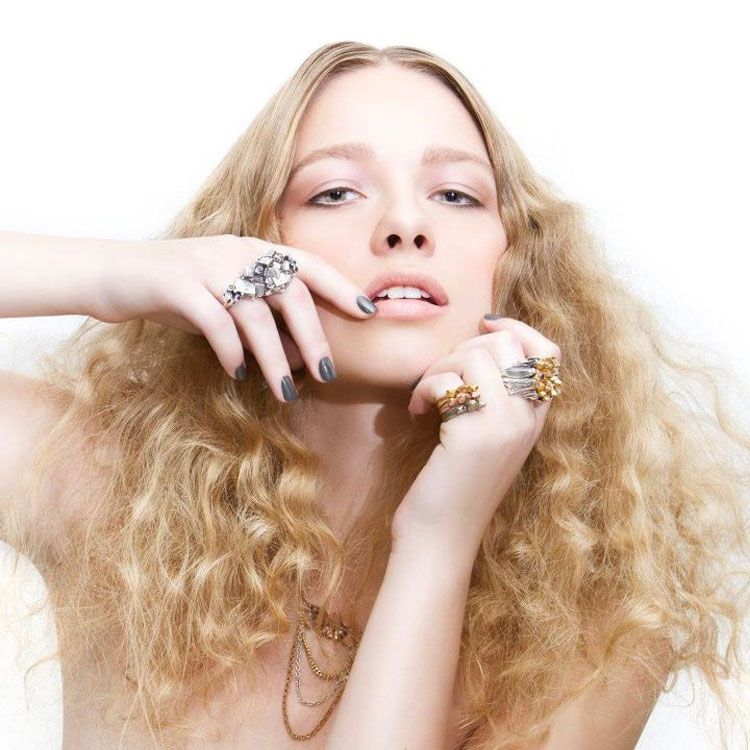 Photo Courtesy of Concrete Polish
Luxury jewelry brand
Concrete Polish was born after designer Angela Monaco spent years trying to find her creative niche in art school. She studied various different mediums at the Maryland Institute College of Art, from printmaking to glassblowing, but ultimately found her match when she started metalsmithing. Incorporating minerals as a sculptural form into her jewelry pieces seemed an obvious route, as Monaco's love for crystals dates back to her childhood when her mother used to decorate their home with the glistening gems.
Concrete Polish turns rugged geodes into lustrous emblems of beauty and strength under Monaco's care. She intentionally creates each piece with the desire for them to become heirlooms — precious possessions to pass down through generations. Made with sturdy materials, the jewelry could probably exceed Monaco's hopes. And with crystals and minerals as her vision, I expect that these pieces are as timeless as the gems that inspired them.
The Gold Pyrite Necklace was inspired by raw crystal growth and the powerful presence they have. Monaco casted pyrite crystals in bronze and plated 18K yellow gold to make this everlasting wearable object. The $155 necklace features a gold-filled lobster clasp with the brand's signature diamond tag attached.
The Silver Double Finger Quartz Blaster is a unique piece that you've probably never seen anything like before. Casted in solid sterling silver, the beautiful $240 crystal cluster ring is worn on two fingers (the middle and ring fingers are recommended). It's a daring, rough, but refined touch to an outfit.
The Gold/Rose Root Crystal Growth Ring is exquisite, as well. For $275, this ring was made by casting crystal in two separate parts and then welding them together. This one features an 18K gold-plated base with a rose gold-plated crystal top. It's a great statement piece and is available in other color combinations like sterling silver with 18K gold and rose gold with black gold.
The Solid Sterling Silver Serpent Bangle is one of our favorites. At $375, it's cast in solid sterling silver. This bracelet is adjustable to fit most wrist sizes and looks great stacked with multiple serpents.
To view the full collection, visit
ConcretePolishJewels.com
.