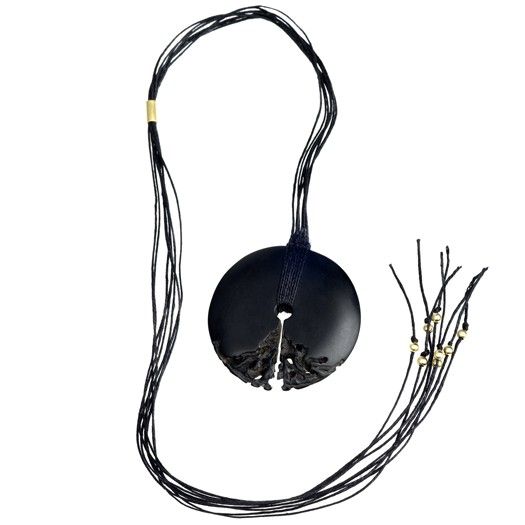 Photo Courtesy of Jacqueline Cullen
If you're not familiar with Whitby jet jewelry, you're not alone. The stone hit its peak in popularity during the Victorian era, but is now making fashion news in the form of luxury jewelry by designer Jacqueline Cullen. First made popular by Queen Victoria when she went into mourning after Prince Albert's death in 1861, Whitby jet is making a comeback: it's fierce, bold and looks great next to highlighting precious metals and gems.
Whitby jet is a prehistoric black fossil circa 180 million years old, which was mined during its heyday back in the 19th Century. Most commonly associated with mourning from this era, the stone is now so rare that Cullen's supplier abseils down cliffs on a rope to collect raw samples from disused mines and ancient caves.
In working with the rare mineral, Jacqueline has made her own unique processes to retain the natural rawness of the stone, an aesthetic that is also incorporated into her designs. The inspired natural beauty of Whitby jet is frequently highlighted by shimmering gold or broken up by precious diamonds to mimic the crags and crevices in which it is found.
Rings in the collection reflect rocky terrain, sometimes highlighted by gold balls and round diamonds dripping down through the cracks. Bracelets are chunky cuffs that have a tough and modern edge that are versatile enough to pair just as well with motorcycle boots as they would with a delicate cocktail dress. Unexpected elements frequently show up, like black diamonds on the black stone, giving a very luxurious touch to the jewelry, which ranges in price from $400 to $7,000 per piece.
Jacqueline Cullen jewelry was worn by the evil character Narcissa in 2009's
Harry Potter and the Half Blood Prince
and has also made appearances in editorial publications ranging from
InStyle
to
Vogue.
To learn more about the inspired jewelry, visit
JacquelineCullen.com
.