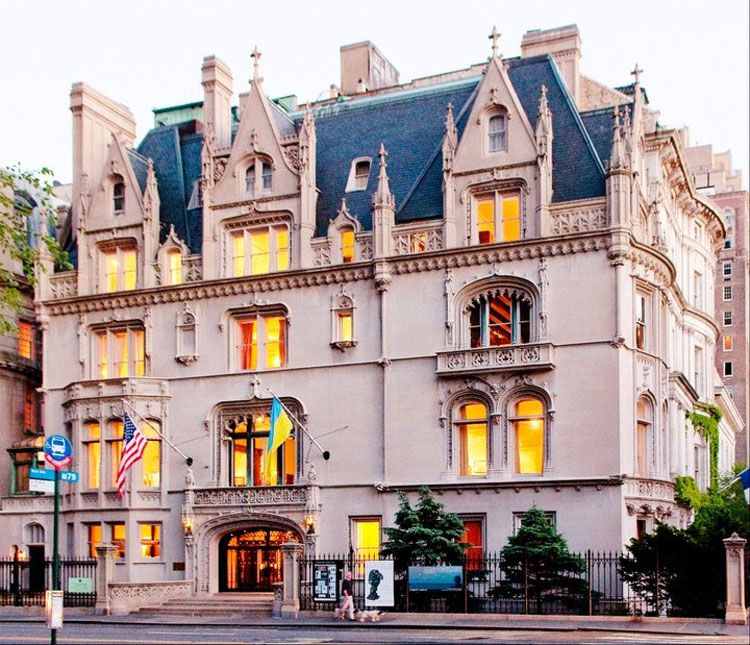 Photo Courtesy of Ukrainian Institute of America
Collectible timepieces by premium watchmakers such as
luxury brands
Tiffany, Rolex, Patek Phillipe, and others will make up the 300 fine and unique timepieces to be sold at Heritage Auctions's New York Fine Timepieces on November 18, 2012. Repeater pocket watches will be plentiful at this auction, which will be held at the Fletcher-Sinclair Mansion (also known as the Ukrainian Institute of America.)
The leading lot of the auction is a Franck Muller prototype minute repeating wristwatch with a perpetual calendar that is expected to sell for more than $70,000. Also among the leading lots of the auction is a Patek Philippe Platinum World Time wristwatch (reference number 5110,) which has a pre-auction expected sales price of more than $25,000. The rare watch is widely regarded by collectors to be on its way to becoming a classic of horology.
Photo Courtesy of Heritage Auctions
"The variety of lots being offered in this auction is truly outstanding, with premier examples by the most respected names in modern watch making as well as rare vintage wristwatches, small unique clocks and a wide assortment of complicated pocket watches," said Jim Wolf, director of fine timepieces for Heritage Auctions.
Photo Courtesy of Heritage Auctions
A circa 1895 Swiss-made time repeater that features an original Polo-themed case and automation has piqued interest and is expected to sell for more than $15,000. An opening bid of $7,500 has already been posted.
Photo Courtesy of Heritage Auctions
A rare Tiffany time repeater with split second chronograph has a pre-auction estimated sales price of $20,000 and is among the featured lots. The watch was a gift from a notorious Wall Street financier (Jay Gould) to his right-hand man (Giovanii Morosini) 1884. The event will also present more than 60 timepieces by Rolex with pre-auction estimated sales prices that range from $10,000 up to $40,000.
The Timepiece Signature Auction in New York occurs on November 18, 2012.