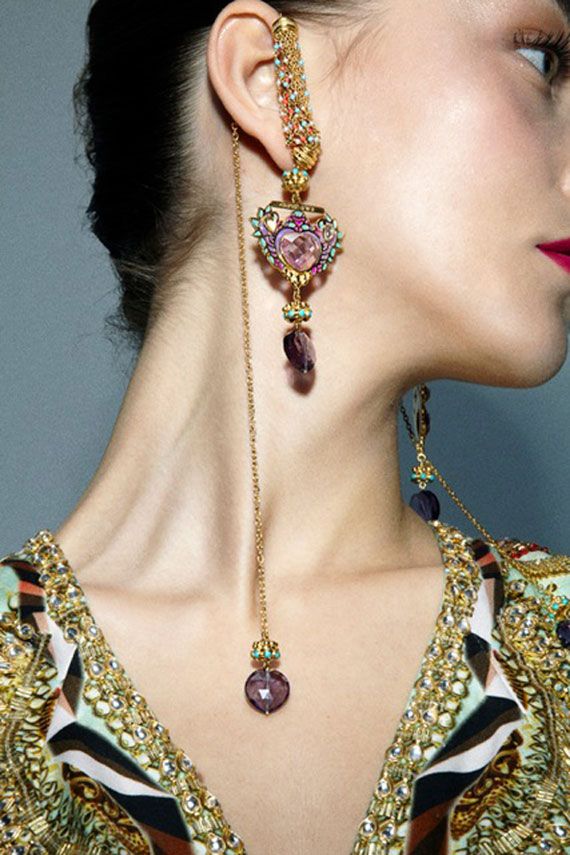 Photo Courtesy of Amrapali
Ever wanted to travel to India, but didn't know just how you would get there? Thanks to a new collaboration between fashion designer Manish Arora and
luxury jewelry
brand Amrapali, now you can experience a little bit of the Indian culture without stepping foot in an airport. By combining Arora's signature vision and Amrapali's finesse in fine jewelry, the two labels came together to produce an exotic line of baubles that just may inspire your next trip abroad.
Manish Arora, an established clothing designer, has been stunning audiences on the runway for years. His latest collection that showcased his creations for Spring 2013 incorporated luscious Indian jewelry to give his ensembles extra oomph. The cultural jewelry left his audience drooling, and the dynamic designer's latest venture will satisfy the needs of those who begged for more.
The teams at both labels stuck to a contemporary pastel color palette to create these exotic pieces that were inspired by antique Indian jewelry. Aside from being aesthetically pleasing to those who love their jewelry in bright colors, the color palette is significant in that it references Indian royalty. it references Indian royalty.
Each piece is carefully handcrafted with the use of 18k gold plating, stone and crystal setting and the traditional Indian art of Meenakari, which utilizes enamel to decorate the metal. The jewelry uses the motifs of animals, lotus, and leaves to mix contemporary and tradition, as seen in the flaming pink dragon and decorative kada topped with tiger heads, which are two of the standout pieces. The result is an exotic collection that ranges in necklaces, earrings, bracelets, bangles, cuffs, rings and hair accessories that feature faceted structures and detailing.