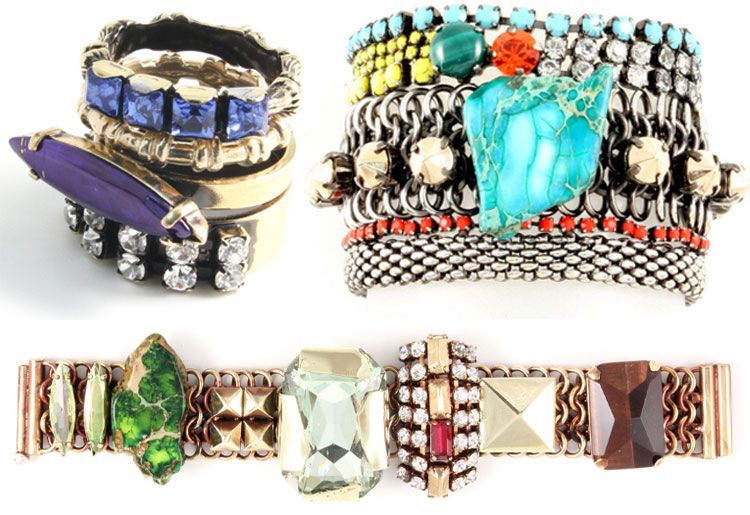 Photo Courtesy of Iosselliani Jewelry
If you're into fine Italian jewelry like us, you'll be happy to know that
luxury jewelry
brand Iosselliani is as Italian is it gets. Founded by Paolo Giacomelli and Roberta Paolucci in 2005, Iosselliani was created as a way to produce jewelry with an artistic quality that is also rooted in the foundations of traditial Italian jewelry aesthetics. The brand produces seasonal collections, and its most recent line for autumn may be the label's most impressive yet.
The pieces are a beautiful blend of various materials with a sparkle of Swarovski crystals and semi precious stones. The artists utilize parts of vintage jewelry to recreate them into signature necklaces, bracelets and stacked rings that leave a bold impression. The rings alone are masterpieces to be reckoned with, often with at least four layers of varying diamonds and stones. A range of different materials and shapes leaves viewers both perplexed and intrigued — in our eyes, that's the ideal recipe for a conversation piece.
The pieces are exquisite when worn alone, as many of the singles pieces take on a "layered" effect. Several of the necklaces feature heavy chain details with strands twisting and turning within one another to create a vine effect. Others, like bangles, are glamorous in stacked combinations. The multi-textured characteristic of this collection give it a rock and roll edge by using mixed metals, turquoise, diamonds and semi precious stones like emeralds and amethysts.