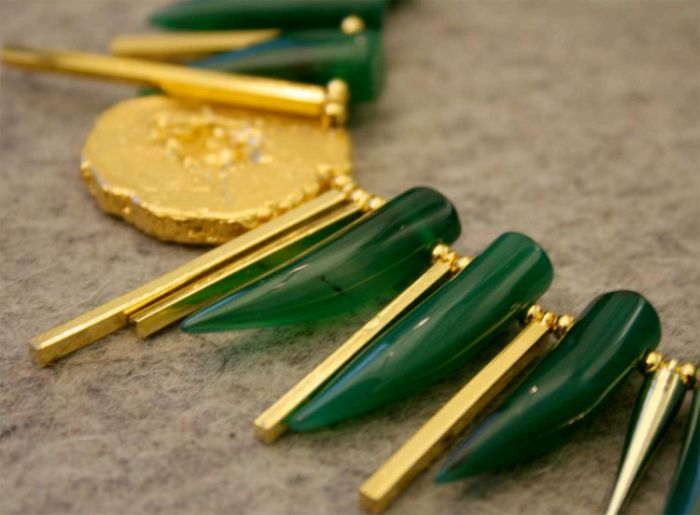 Photo Courtesy of Gemma Redux
As a self-proclaimed sucker for bold constructions that combine the use of classic stones and solid metals, Rachel Dooley of
luxury jewelry
brand Gemma Redux has honestly left me a bit weak in the knees. Through the use of gorgeous gems and casted metal stones, each piece has exciting personality— which gives me the feeling that this love affair is one that will certainly last.
Designer Rachel Dooley definitely has an innate aptitude for the arts, and spent most of her childhood hammering glass to create impromptu and handmade stained glass mosaics in her garage, sewing and painting her own clothing, and selling her own handcrafted lanyards. This childhood passion was put on the back burner, however, when she entered adulthood, as she decided to attend the University of Michigan where she studied mechanical engineering and material science.
Afterwards, Dooley went to Fordham University to study law, and while taking a break from studying for the New York Bar Exam, she made her first mixed-metal necklace from vintage and industrial materials. Within months, Rachel's designs were showing up in publications across the country, including
Harper's BAZAAR
,
WWD
,
Cosmopolitan
,
Glamour
and
Zink
— and has even been showcased on the necks of our favorite Upper East Siders on the hit TV show
Gossip Girl
. Soon after, Hollywood's hottest celebrities and trend-setters such as Jessica Alba, Blake Lively and Cameron Diaz started rocking these beautiful baubles and the Gemma Redux brand was catapulted into stardom.
With a line that translates to "reconstructed gems" in Latin, Rachel Dooley has certainly been living true to her brand name. Each season, Dooley explores all aspects of design so that she can create new and unique pieces. Of her design inspiration, Dooley explains, "My passion is to find new materials and create unique silhouettes that evoke a sense of fantasy and discovery." Clean, metallic lines and repetitive shapes work alongside delicate gems and stones, creating a finished product that is fun, fluid and feminine.