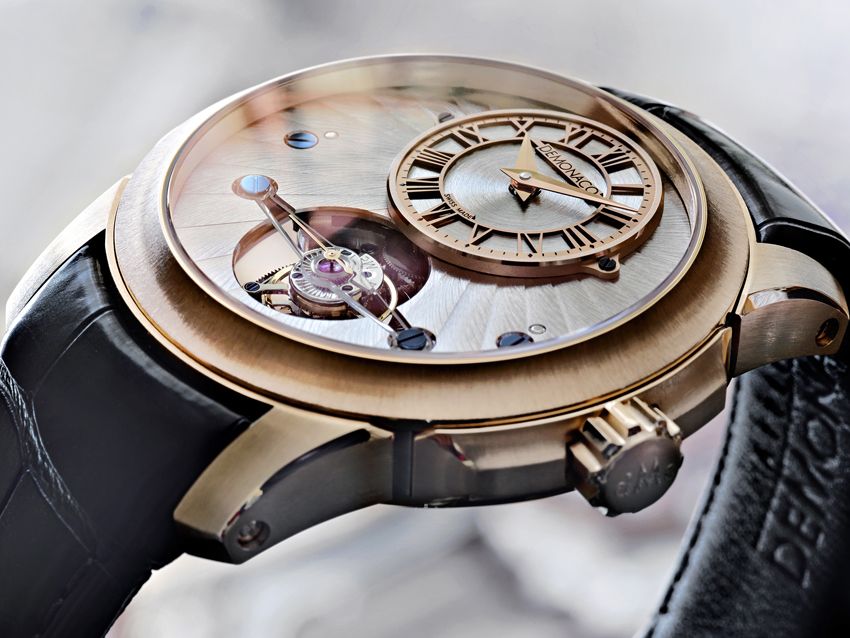 Photos Courtesy of Ateliers deMonaco
Monaco may not be the place we immediately think of when we start to dream of luxury watches, but Ateliers deMonaco is definitely beginning to attract our attention. Premiering their Tourbillon Oculus Petite Minute at Baselworld this week, the independent watch manufacturer is offering a new timepiece that parallels with some of the best Swiss brands, but with multinational designs and a unique take on craftsmanship.
Manufactured in-house in their atelier in Geneva, Switzerland, the movement of the new Tourbillon Oculus Petite Minute was created to be a luxurious legacy—a riddle of beauty and perfection. "We have always dreamt about making a mechanical watch movement that is the most precise in the world and will keep generations of scientists busy trying to figure out how we did it!" a spokesman from Ateliers deMonaco said. While the perfection of the tourbillon may not exactly be mystery, it's accuracy and precision is nothing to be scoffed at. The original Grand Tourbillon Xtreme Precision created five years ago had a tolerance between 0-2 seconds/24H, and in celebration of the achievement the new timepiece was created using the same movement.
With Swiss-based, in-house designed movement, the aesthetics of the watch reflect the heritage of Monaco—the people, culture and landscape. Named for the oculus that allows the wearer to see into the interior movement of the watch, the design is "originating out of the Byzantine and neoclassical architecture that allowed light to come through and subsequently would naturally draw the attention to this opening of light."
In a blend of titanium and 18 karat rose gold, the 43mm watch face is available in a round, square or jeweled version. A laser-cut, sapphire front and back encasing allows for an anti-reflection glimpse at the timepiece movements, which includes the atelier's iconic 18 karat gold rotor with brand stamped shield and hand crafted engravings. Prices start at € 59,000 (approximately $81,178).