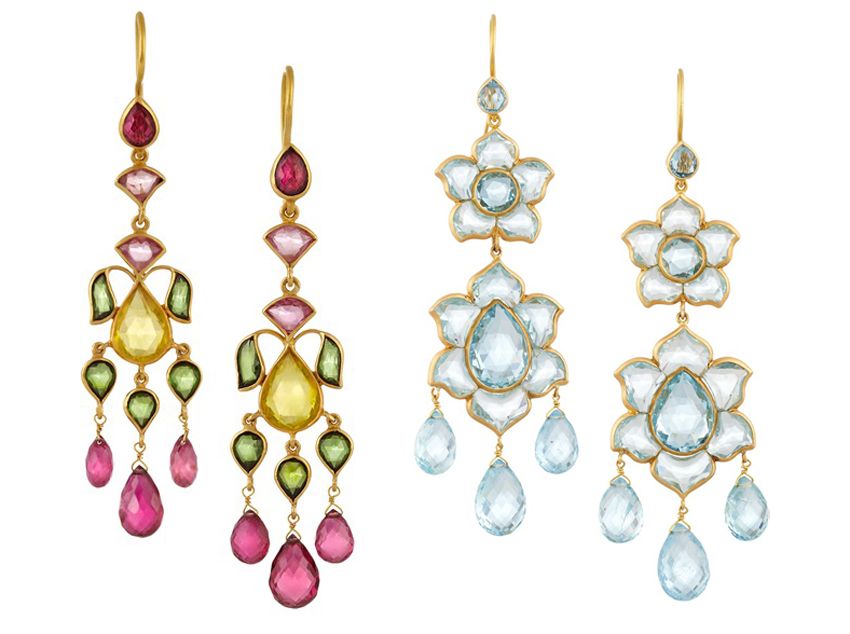 Photos Courtesy of The Gem Palace
Some of the most beautiful and exceptional pieces of luxury jewelry in the world aren't found in the windows at Bugari, Buccaletti, Chopard or Van Cleef & Arpels—they are custom made for royalty and collectors from all over the globe. One of the most established families in creating these one-of-a-kind, opulent pieces are the Kasliwal's and their line MUNNU The Gem Palace—and they have been expanding and improving upon their legacy of luxury for nine generations. Now lead by Siddharth Kasliwal, MUNNU The Gem Palace is expanding upon family traditions with an exhibit at the Kremlin Museum in Moscow and a new collection at Net-A-Porter. We spoke to Kasliwal about what it takes to run such a personal business, about the curated museum and Net-A-Porter collections, and what it's like to live up to his father's legacy.
JustLuxe: Can you talk a bit about your background and family's history with jewelry? Was this something you always wanted to do or something that you fell into being the next in line?
Siddharth Kasliwal: The Gem Palace has been in my family for generations. I am now the ninth generation Kasliwal to lead the family business, which makes me very proud. My father was my mentor, friend and teacher. At the age of 17, I left boarding school because my father was preparing for an exhibition at the Metropolitan Museum of Art. I spent hours with him in his studio and that is when I realized I wanted to be a jeweler. Before that moment, I wanted to be a travel writer, but following my experience at the MET I realized I wanted to be a part of his world. I never felt obligated to join the family's dynasty—I was very proud of my legacy and felt fortunate to be born into this family and therefore felt this was where I belonged. I understand why The Gem Palace has existed for so many generations, why it was so special to my father, and why it is so special to me.
JL: Your father really brought Indian designs to the attention of the West, bringing it to the Museum of Art in New York and Somerset House in London—now you're showing at the Kremlin in Moscow—do you feel you'll be able to live up to your father's great success? What challenges do you think you'll face?
SK: I am the biggest collector and admirer of my father's collections. My father taught me that jewelry is art and each piece needs to be made with heart and soul, especially in this modern time. I plan to continue his "quality not quantity" outlook while creating pieces for my collection for MUNNU The Gem Palace. My pieces will not stray too far from my father's work as the designs are greatly influenced by him, but they will have my own contemporary aesthetic.
JL: Can you tell us about the collection on display in the Kremlin? What makes that collection so unique?
SK:The exhibition at the Kremlin is very important to my family as the entire show was dedicated to the memory my father. The process started when the director of the Kremlin approached him with the honor of having his work displayed in the exhibition. Indian jewelry and Russian jewelry have many similarities, hence the Indorussian collection. As we continued the selection process for the Kremlin show, we wanted to select pieces that were truly iconic pieces, indicative of my father's passion, style and talents. All of the pieces chosen were made in the last 20-25 years of his life.
JL: Your family has been creating jewelry for generations from the most extravagant royal designs to your new collection with Net-a-Porter. Can you speak about the differences in design, artistry and craftsmanship between the two?
SK: The pieces on display at the Kremlin represent the highest level of craftsmanship that MUNNU The Gem Palace has to offer. They are all made of precious materials—some of the rarest in the world—and require months, sometimes years, of craftsmanship. Each piece is truly one-of-a-kind, never to be reproduced in the same design again.
The craftsmanship, artistry and design of pieces in the Net-A-Porter collection are just as painstaking and detailed. While each piece is one-of-a-kind due to the fact that they are all handmade, more than one piece can be made in the same design—as is necessary for them to be sold in an online-retail format. The Net-A-Porter pieces also use semi-precious stones as opposed to the emeralds, diamonds and rubies you would see at the Kremlin and in Jaipur. This allows us to make the artistry and craftsmanship of all MUNNU The Gem Palace pieces more accessible.
JL: What is the process that goes into creating a new piece? Do you start with a design, a jewel, an idea…how is it then executed? How much time goes into making a new piece?
SK: My father always said jewelry needed to have soul. Our pieces are conceived out of individual inspiration and made by and by the finest, most highly-skilled craftsman in the world. Each piece is individual, some begin with a design idea, others begin with the jewel as the inspiration and focus of the piece. Some pieces from the Kremlin exhibition were worked on for nearly four years before they were ready. I believe that is what makes our pieces special—when the motive and objective is to create something so unique, the time it takes to complete becomes unimportant.
JL: What are some of your favorite jewelry aesthetics? What are some of your favorite pieces from the Kremlin exhibit? From the Net-a Porter collection? Why?
SK: I enjoy working with diamond and emeralds as well as other materials, which will be seen in my new collection. All of the pieces at the Kremlin exhibition are dear to me because they showcase some of the last works of art completed by my father before his passing in 2012. One of my favorite pieces at the exhibition is the little ruby box, which is comprised of 927 rubies. This piece is a true work of art that required great skill, amazing passion and patience to create in today's era. Attention to detail was extremely important to my father. His commitment to spending five years of his life on one piece of jewelry showed his dedication to his craft. From the Net-A-Porter collection, I love the drop earrings. The colors of the stones catch light beautifully and look very elegant.
JL: What do you hope women will feel when wearing your jewelry? How do you wish for them to see themselves in your pieces? How do you want your pieces to be seen or interpreted?
SK: My father believed that jewelry should be as beautiful on the outside as the skin-side. The back and underside of our pieces are just as carefully detailed as the front, in line with traditional Indian belief that what touches your skin should be just as beautiful as what the eye sees. We want women to feel unique and playful while wearing our pieces. Whether worn with a gown, or with jeans and a white tee, each woman will feel like they are wearing a work of art.
JL: Do you think your new Net-a-Porter collection accurately portrays your family's heritage?
SK: Yes, all of the pieces are handcrafted at The Gem Palace in Jaipur by the finest craftsmen in the world. We understand the importance of making pieces accessible to admirers of the brand and Net-A-Porter is the perfect platform.
JL: What are your plans for the future of the company? Where do you want to go from here and how do you want to expand?
SK: Right before my father's passing, he told me that "it takes generations to build a business, but only takes one to tear it all down." It is very important to continue my father's legacy by running the business just as he did, but also adapt those traditions to the new way of life. This will always be a quality business and never a quantity business. Moving forward, my focus is on producing my new collection, which will have my own contemporary flare.
MUNNU The Gem Palace is now available at Net-A-Porter and priced from $7,000-$34,000.