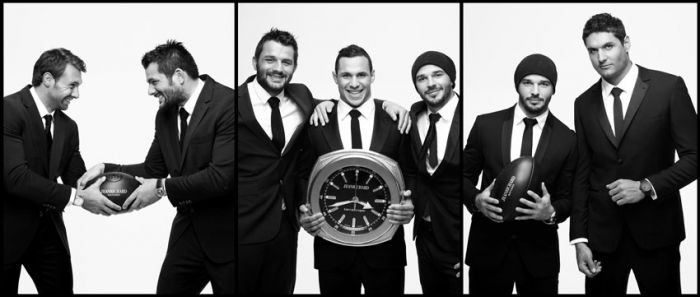 Photo Courtesy of JEANRICHARD
If you're wondering how a mismatched rugby team and luxury watch brand JEANRICHARD go together, we assure you that there's more to it than good-looking men wearing good-looking watches. Actively supporting sports teams from rugby to sailing, the Swiss watchmaking brand formed its own ambassador team from nine of France's top players including Vincent Clerc, Brice Dulin, Gaël Fickou, Fabrice Estebanez, Juandre Kruger, Benjamin Lapeyre, Maxime Machenaud, Jérémie Maurouard and Pascal Papé. Pulled from France's famous Top 14, a rugby union league of the best 14 teams in the country, the JEANRICHARD squad consists of players from every position and every level in their career. A personification of the brand's philosophy of life—the pursuit of enthusiasm, experience and hard work—these men embody the characteristics of what JEANRICHARD hopes to be.
"I transmit my enthusiasm through hard work and the pleasure I find in playing with my teammates," explains Jérémie Maurouard the youngest of the nine. "You need to be persistent, to stick to your ideas and to be ready to listen to others," adds Vincent Clerc, the team's most experienced player. And while all the brotherly bonding, teamwork and passionate athleticism sounds great in theory, the fact that they complement each other despite playing for opposing teams shows the true spirit of JEANRICHARD men.