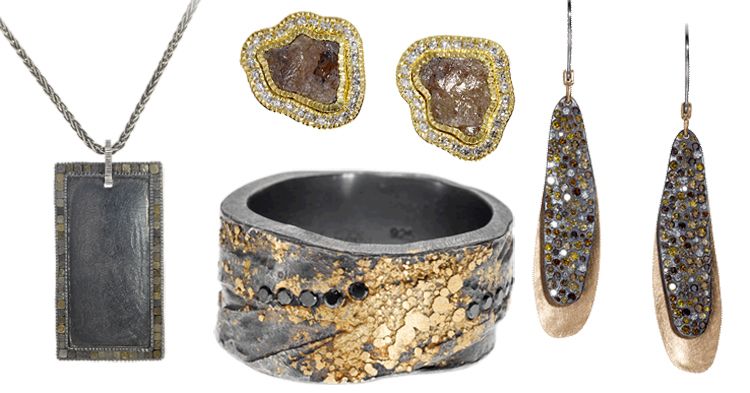 Photos Courtesy of Todd Reed
One of our favorite things about fine jewelry—aside from the glitz and sparkle, of course—is to see the sheer amount of creativity that designers can put into such a little thing. While fashion is able to use the body as a canvas, jewelry is allotted a mere finger, a wrist or an earlobe with which to make an astounding impression. And while we will never, ever say no to a giant diamond ring, accessories that play with metals, tones, colors and jewels are much more impactful. One of our favorite designers, Todd Reed, creates jewelry from gold, platinum and diamonds in an entirely unique way; leaving them in a natural state, raw diamond cubes, patina and gemstones come together to create an organic collection of jewelry.
Capturing his attention when he was only ten, a young Todd Reed was fascinated by a jewelry maker he saw while on a family vacation in Brisbee, Arizona. "I watched in awe as this man turned sheet metal into body adornment in what seemed to be a very short time," Reed recalls. "It forever changed the way I viewed design and my life." His mother was an illustrator and growing up at home meant a constant creative space that he later drew from for his designs. After graduating from culinary school he became friends with a diamond collector who once again ignited his passion for jewelry and design. "He completely took me under his wing. His love for diamonds was infectious, and he showed me the artistry and miniature sculpture that appeared in the rough stones," he said. "I was riveted and wanted to know and see more. I realized that my aesthetic was to create jewelry that would push the boundaries of what precious pieces could be, and to merge the freedom of artistic expression with the allure of fine jewelry."
Moving to Boulder, Colorado to stay in tune with nature, Reed began his first shop in 1996 creating solely for private collectors; within 14 years he had outgrown his humble beginnings and transplanted to a new design and distribution space on Pearl Street with 16 master jewelers as a part of his team. His new studio is now a place of gathering for Todd Reed collectors around the world to discuss, dine and design. But whether creating custom pieces for a private client or for his store, his aesthetic always eludes to raw nature to keep the imagery his own.
Entirely hand-crafted, Reed's designs are finished in 18 kt gold, silver, palladium and platinum with diamonds and stones hand selected for every piece. Creating designs that range from bridal rings (in his own aesthetic, nothing looks very traditional) to men's jewelry, the pieces are almost interchangeable and speak volumes of his uncompromising desire to stay true to the nature of the materials. His new collection entitled Raw Elegance alludes to his reverence for the beauty of nature and is a pearl-based line. Incorporating Tahitian pearls that he has been accumulating in anticipation of the line, designs are multi-layered, seemingly broken into to allow the smooth surface of the pearl to peek through the gold.
While Reed's collections are clearly not for everyone, their earthy quality and raw beauty makes them almost more rare and exquisite than any of their polished, sparkling counterparts. "I want to make jewelry that is exquisite in every way, jewelry that is powerful and humble, jewelry that is simply the best," says Reed. And while the best might be subjective, the humility of uncut stones and the nature they represent is nothing short of compelling.