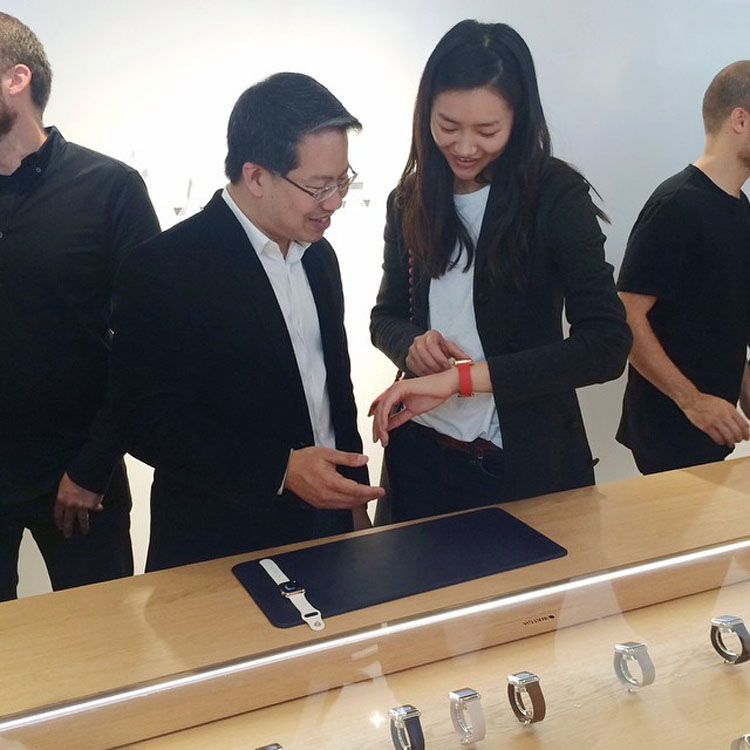 Photo Credit: Liu Wen via Instagram
Admittedly we've got our ear to the ground for any tiny iota of news we can get about the new Apple Watch; we want a Watch and we want it now. (Can you imagine the amount of selfies we'll be able to easily take?) So when supermodel Liu Wen Instagrammed a photo of her wearing the coveted Watch with the caption "My second meeting with the Apple Watch, this time in Colette! The first time? Well, you'll see soon," we basically imploded. Is Wen about to star in the Apple Watch launch campaign?
Photo Credit: Suzy Menkes via Instagram
As Apple is hoping to market the Watch as a true accessory more so than just wearable tech, it makes sense to tap one of the biggest models in the industry. The seventh highest-paid model in the world on the Forbes supermodel list (coming in just behind Miranda Kerr), Wen is already a favorite on both the runway and with brand campaigns. Walking for Chanel, Gucci, Hermes, Dolce & Gabbana, Victoria's Secret and Jean Paul Gaultier just to name a few, the Chinese model is also the face of Estee Lauder, H&M and Calvin Klein.
Photo Credit: Suzy Menkes via Instagram
Last month Apple unveiled the new Watch and since then the fashion set has been seemingly impressed with the device. A special preview at Colette on Tuesday in the middle of Paris Fashion Week—where the Instagram shot of Wen was taken—drew out the big guns including Anna Wintour, Karl Lagerfeld, Anna Dello Russo and Suzy Menkes. It's clear Apple is trying to woo the fashion crowd with their Parisian preview and (hopefully!) grabbing up one of the top models in the industry. We can't wait to find out if Wen snagged the role, but either way we're pretty sure Apple already won the fashion industry over—just look at those huge grins on Karl and Anna!
Photo Credit: Suzy Menkes via Instagram
Photo Credit: Suzy Menkes via Instagram