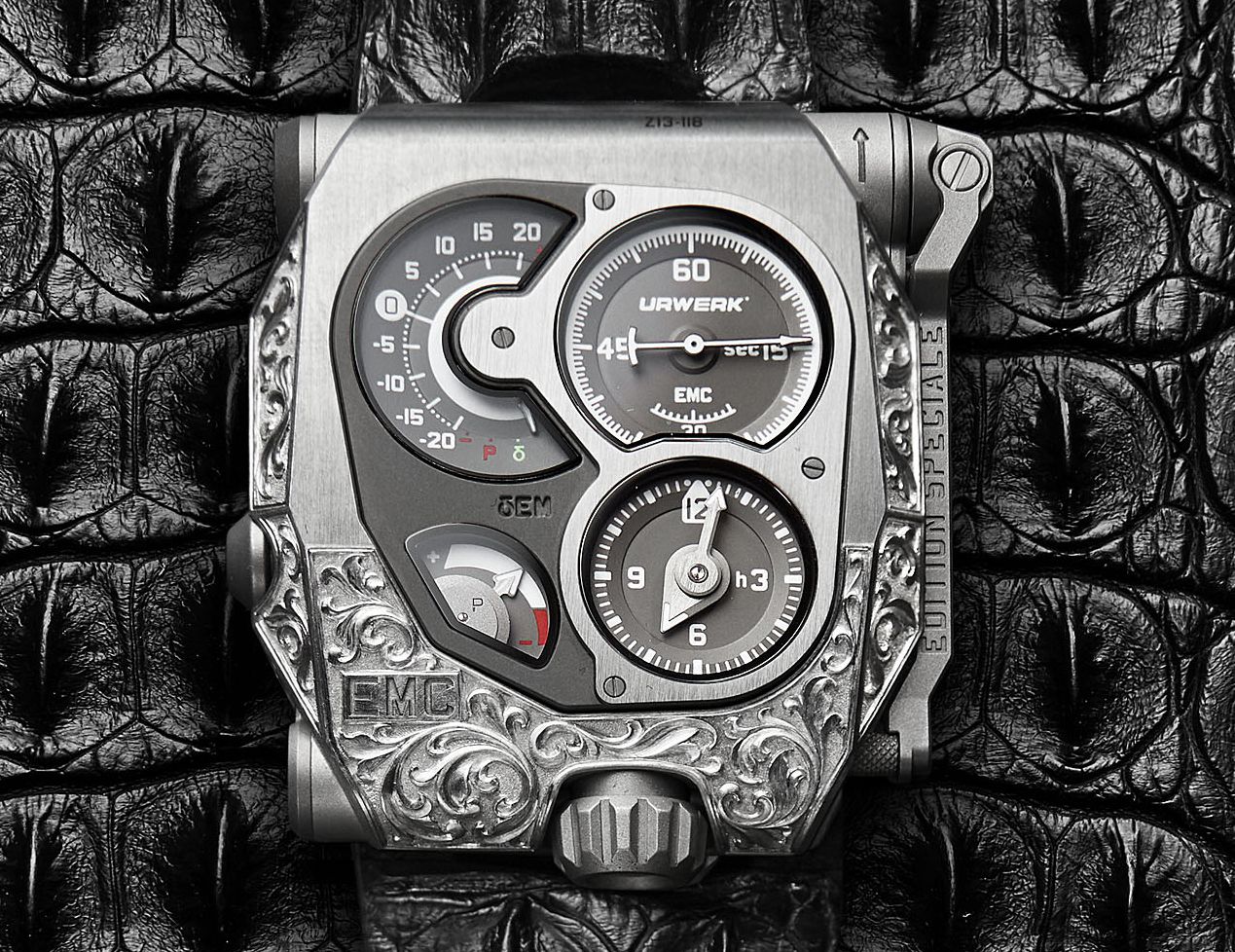 Photos Credit: Urwerk
Urwerk's latest project is the EMC Pistol, a special-edition timepiece that encapsulates the best of the EMC collection and gives it an upgraded, more luxurious exterior. The original EMC has won numerous awards and accolades around the world. In 2014, the Geneva Grand Prix d'Horlogerie awarded the EMC two first prizes in the "exceptional mechanism" and "innovation" categories, and it earned Urwerk founder Felix Baumgartner the title of Watchmaker of the Year in Hong Kong.
The latest EMC edition, the Pistol, was intended to be a visual marvel with exquisite crocodile leatherwork, intricate case engravings and the mechanical ingenuity of the original timepiece. Expertly crafted by five artisans—Florian Güllert an engraver, Joséphine Morf and Sylviane owners and artisans at Portalès Leather, and Urwerk's artistic director Martin Frei, and master-watchmaker, Felix Baumgartner—the finished product is a horological masterpiece that balances the beauty of traditional Swiss mechanics and modern technology.
The piece is outfitted with four separate dials, one to measure precision, another to show the running seconds, another displays the hours and minutes, and a final hand is an 80-hour power reserve indicator. The inner mechanics are comprised of both traditional pieces and a custom-made electronic device that uses an optical sensor to record the oscillations of the 28,800v/h balance over a period of three seconds. An electronic oscillator at 16 million Hz obtains the most precise measurement possible, and accompanying artificial intelligence measures the difference between the rate of the movement and that of the reference oscillator to calculate if the watch is slow or fast by even a fraction of a second. By hand-winding a small handle hidden on the right of the watch face, all of these calculations can be accessed at the touch of a button.
"The EMC is a mechanical watch fitted with a hand-cranked electric generator, a capacitor and a system that monitors its rate. It took me some time to combine all that into a watch that sits comfortably on the wrist. When we first demonstrated the EMC idea, the module was…as thick as a brick," Frei explained. "Miniaturizing the components and maximizing the space by making full use of every cubic millimeter was an exacting task that we undertook with pleasure. Every aspect of the EMC constitutes an exploit. Disguising the constraints and making it look easy is what we're good at."