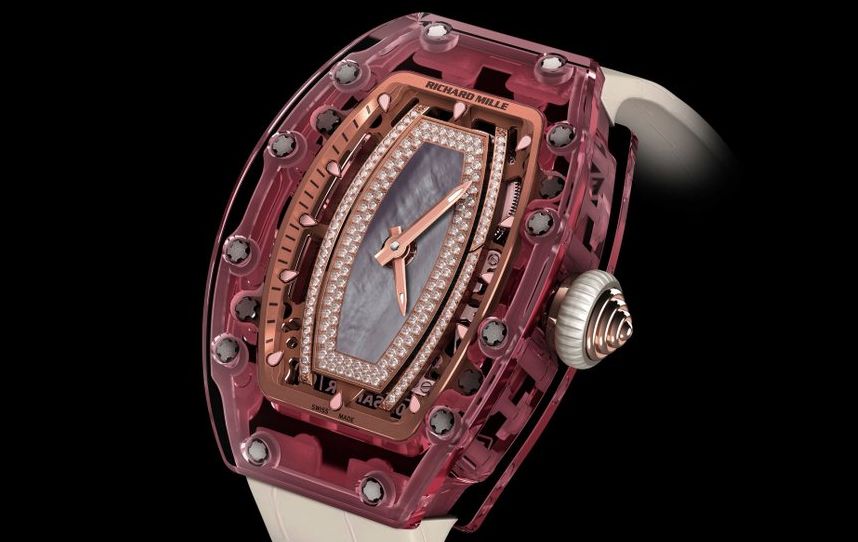 Photos Credit: Richard Mille
One of the things we most adore about a ladies watch is the amount of glittering stones and baubles that often cover its surface. But the latest timepiece from Richard Mille puts almost every other watch to shame. The new RM 07-02, nicknamed the Pink Lady Sapphire, is actually a giant gem. The watch housing is carved from a large pink sapphire studded in diamonds and trimmed in 18-karat rose gold. The piece is one of the most detailed and complicated designs the company has ever created and is priced at £678,571 (approx. USD $1.03 million).
One of the reasons the watch is so exclusive is due to its manufacturing process. Sapphires on their own may not be cause for a million dollar price tag, but from an engineering standpoint this watch is almost impossible to create successfully. Crafted from a single stone, it takes almost 40 days for machines to precisely cut the gem. Many stones don't make it through this process as sapphires pose a challenge during cutting due to their hardness—a single error and the entire casing could crack. If the stone is cut successfully, it is then polished and put through rigorous testing to make sure it meets the brand's standards.
Even with its gemstone casing and feminine colorways the timepieces still has masculine touches like its visual mechanics and skeletal structure. On the front, the watch dial is plated in mother-of-pearl, encircled by diamonds with an 18-karat rose gold bezel and hands. The movement, a Richard Mille caliber CRMA5, can be partially seen through the pink sapphire, but the clearest view is through the back. Here a diamond encrusted rotor sits over the movement, showcasing the lavishness and beauty of the watch down to the last detail.