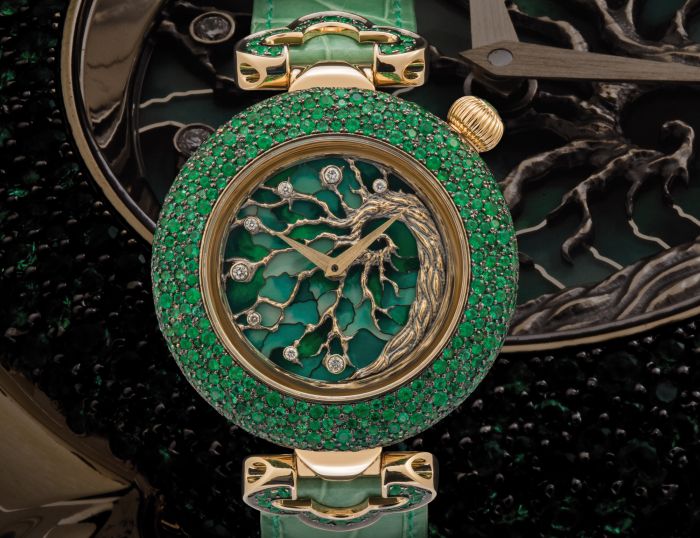 Photo Credit: Kerbedanz
Kerbedanz just unveiled the new Tree of Life timepiece, an artistic interpretation of immortality comprised of emeralds, diamonds and 18-karat gold. The tree, found on the face of the watch, is intended to symbolize the unity between heaven and earth, spirituality and eternity. A gold bas-relief sculpture, hand-carved from yellow gold, it "grows" from the bottom of the dial before curling over the entirety of the face. On its branches it bears the fruit of life, represented by a series of tiny diamonds.
The watch face is comprised of a cloisonné green enamel dial and is encircled in 541 emeralds weighing a total of five carats. The green shade of the stones, strap and watch face are meant to embody the color of life and vitality, while the eight white diamonds seen dangling from the tree are a "token of immortality." The Tree of Life is clearly intended as an art piece, but watch lovers will also appreciate the mechanical automatic KRB-03 caliber movement with twin barrels and a 120-hour power reserve. Only 41 pieces of this limited edition watch will be made available.