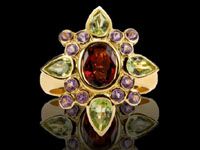 Fine Jewelry:
Carri Vacik's entry into jewelry design wasn't entirely a fluke, coming from an artistic family and marrying into a family of stone dealers. But her unique aesthetic that combines the richest colored gemstones in the world with heavy gold is all her own. Luxemont was lucky enough to have the opportunity to speak with the London-based jewelry designer about her perspective, her travels and even some tips on what makes the best gemstone.
JL: How did you become interested in gemstones and jewelry?
I have always had an interest in the arts and design as I am from an artistic family. However, my husband's family were stone dealers and so therefore, I decided to study Gemology from a purely aesthetic point of view. I became inspired to design and develop my own high quality original pieces while I was living in Paris.
JL: Where are some of your favorite places to travel and find gemstones?
I love to travel to Australia for opals and I stop off in Thailand for colored gemstones on the way. I know a lot of the dealers there. It's fantastic to go to all of these fabulous places. My next trip is to Brazil and I can't wait to check out the fashion scene too.
JL: What should people look for in a gemstone?
Some simple things that anyone can do are the following: Look at the particular shade and depth of body color. There should not be heavy undertones or overtones. The color must be evenly spread, not too dark, nor too light. I perform a very simple test of placing a stone between the fingers of a flat palm. If the color is weak it will be seen only around the sides of the stone and the centre will be clear. Look at the surface condition, it should be smooth without scratches, chips, fine abrasion or polish marks. Observe the external shape and the quality of the cut, this is the symmetry and the sharpness of the edges. You also need to observe the internal characteristics that are visible to the eye. You do not want to see ugly inclusions. No matter how much someone might tell you a stone with very visible inclusions is interesting, unique or beautiful, these stones are worthless and sell for next to nothing in the industry. One last thing, when you make these observations try to use different light sources. A stone can look very different in various lighting. If you are in a shop, go to the window and use the daylight also.
JL: What are some of your more unique inspirations?
My inspirations are always associated with beautiful, exotic, powerful women. I start with an image of something which captivates me, a place, a work of art, a woman, or even a part of her body and everything is structured around that image. As I am designing I create in my mind a character, who to me embodies that piece of jewelry. As she comes to life I ask myself these questions: What is her life? Where is she from? What does she look like? The firebird collection for example was drawn with the ballerina's of Les Ballets Russes in mind. Each set of earrings color and shape represents each ballerina and evokes her unique movements.
JL: Do you have any other hobbies that also inspire your jewelry?
Yes, travel. I am obsessed with different and faraway places. As a designer you learn to be effected by everything that you see and so, travel becomes almost like a profession in itself. I am particularly influenced by color, shape and the historical links of a place. I look for the stories that the places have to tell. For example with my Courtesan ring the "colors" are taken from the Cathedral of Saint Sophie in Istanbul. However, the "name" denotes a lady of great spirit, who I imagined lived in the time of the of the turkish empire and who was adored by a great Sultan.
JL: What is your favorite part about jewelry design?
To me being a designer is the same as being an artist. It is a passion and a lifestyle. Almost everything that you do and what goes on around you influences your work. It is because of this that you must seek out unique experiences, to keep an open mind and to feel different sentiments, this encourages creativity and growth.
JL: Where do you do most of your designing?
I sketch ideas wherever I may be and then draw out the designs in places like Aix-en-Provence and Collioure, a place also favored by the Fauve artists. Quality of light which interprets everything that we see is very important to me and in the summer in Europe it is wonderful to work outside bathed in the sun. In the winter when I am not traveling I work from my studio in London, which is always exhilarating.
JL: Do you use any special tools/people
to do your designs?
For the realization of my recent collection I worked with Thai goldsmiths who I chose for their particular traditional skills in working with gold and their devotion to achieving the highest standards. My work could potentially be a challenge to them as asian jewelry is generally small and delicate, but they are very accomplished and always delighted to try something different.
JL: What are some of your favorite pieces?
A mother should love her children equally.
JL: Do you have any famous clients? If possible who are they?
Yes I do and they come from different parts of the world. I could not disclose who they are though. Like many high profile people absolute discretion is very important to them.
JL: What are your plans for the future of your jewelry?
I want to remain the creator of unique jewelry for women of confidence, style and individuality. I also want to continue to be involved personally in the ideation and creation of my designs.
Read Carri Vacik's Designer Profile >>
For LxM Carly Zinderman
Luxury Fashion Insider