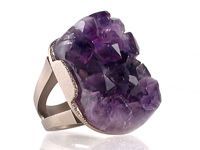 Fine Jewelry:
That a chunk of amethyst should remind Geoffrey Good of a hairy orange monster in a Bugs Bunny cartoon shouldn't come as a surprise. When it comes to fine jewelry, this New York-based designer's imagination soars.
Good puts creativity and originality ahead of conventional jewelry values - like big colourless diamonds.
And in terms of design, "if someone else is doing it, I have absolutely no interest," Good declared over lunch at Soho's 60 Thompson hotel.
Splayed out on the table before us was a selection of Good's extraordinary designs. An enormous 85 carat Brazilian aquamarine lay framed in African Gabon ebony, the darkest, most expensive wood there is. The "little monster" ring is a hunk of amethyst that looks as if it has been chipped from a slab of rock and plunked into a sculptural gold setting trimmed with microscopic diamonds. A fiery orange topaz is mirror cut so that looking at it straight on the colour is amplified, but it is transparent from the sides. And a swirl of pyrite set in wood resembles a golden mushroom.
"I'm mostly inspired to create with objects from nature that are as minimally processed by the hand of man as possible," Good explains. "There's so much unexpected beauty already in nature that - given the proper presentation - we don't need to limit ourselves to traditional ideas of beauty or gems."
Even sterling silver is unrecognizable in Good's hands, thanks to a process that encapsulates the metal to give it a black sheen.
"Everything is handmade by me experimenting with traditional techniques," says Good, who graduated from the jewelry program at New York's Fashion Institute of Technology, where he now teaches.
A native of Virginia, Good studied trumpet, piano and fashion merchandising before discovering his talent for jewelry. He apprenticed with a Madison Ave. veteran, and has worked for Christies, Sotheby's, Taffin, Fred Leighton and Verdura.
"I was lucky that I cut my teeth on Cartier," Good acknowledges. "I have made pieces in the double digit millions, like a 100-plus carat D flawless necklace valued at $14 million."
Although he still designs and restores for major jewelers, collectors, galleries and museums, the classics bore him, and Good would rather be using his technical prowess to dream up innovations like the nearly invisible hollow wires that hold a spear of rudellated crystal.
Good emphasizes, however, how crucial traditional skills are in order to be truly creative.
"I encourage my students to learn all they can about technique," he says. "It's not fun but I tell them if they master that, they can do anything."
A Geoffrey Good micro-boutique will open soon at Sample in Manhattan's NoLita district. Rings are priced in the $3,000 to $7,000 U.S. range.
By Bernadette Morra
Editor-in-chief
JustLuxe
Contributor
FirstwaterNews.com