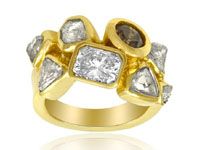 Fine Jewelry:
In 2004 Wade Watson, an already successful entrepreneur who focused his efforts in developing socially conscious start-ups, co-founded Pride Diamonds. This socially responsible mining company provided a mining community in war-torn Sierra Leone, Africa a fresh start through labor and investment opportunities. Two years later Watson became Executive Vice-President of Target Resources, a mining and distributing enterprise in Sierra Leone. In 2008 he took his work with gems even further, launching the jewelry collection Ruff&Cut, a luxury brand that represents sensible sourcing, socially minded manufacturing and giving back to impoverished African mining communities.
With gems coming out of Watson's Target Resources, the diamonds are conflict-free and un-tampered with. Every engagement ring, bracelet, necklace and pair of earrings hold true to their natural materials and to the Ruff&Cut philosophy of "creating an invisible cord that ties the land and the people who bear the stones to those that wear them with singular conscience." A variety of designs just as unique as the recycled metals and golds that make them, form this collection. Smooth gold lines create a bird pin; Ruff&Cut's cheerful sandpiper logo while other pieces are hammered and jagged, resembling ancient artifacts.
Three well-established jewelry designers recognized for their use of responsible materials and charitable donation of profits lend their vision to the earthly-inspired Ruff&Cut collection. Robin Renzi of Me&Ro, a New York-based jewelry company adds delicate and feminine designs, each of her raw diamonds nestled into a cradle of gold at the end of a chain. Co-founder of TMD, Tracy Matthews of California brings both antique and architectural elements to her metal work and incorporates eastern influences to pendants and earrings. Modern jewelry master Todd Reed of Todd Reed Inc. out of Colorado, known for the integration of naturally occurring materials into his award winning designs, uses recycled gold as the accent to his geometric and gem-filled pieces.
Ruff&Cut not only uses responsibly sourced materials but also gives back just as much as they take. Proceeds go to a variety of non-profits working to rebuild and reform these mining communities that are only recently seeing return on the investment of their labor and export of diamonds. Profit donations also go towards developing orphanages, shelters and schools for children that have been displaced from their families and caretakers during the civil war in Sierra Leone and are forced to live on the streets. Each treasure from the Ruff&Cut collection is paired with a card displaying the charity that will receive 10% of retail costs.
The operations of this jewelry brand signify the positive impact globally minded capitalism can make and this is represented in each luxurious adornment from the collection, making Ruff&Cut truly a diamond in the rough.
Mary Allen
Owner,
Yoga Life
JustLuxe
Contributor