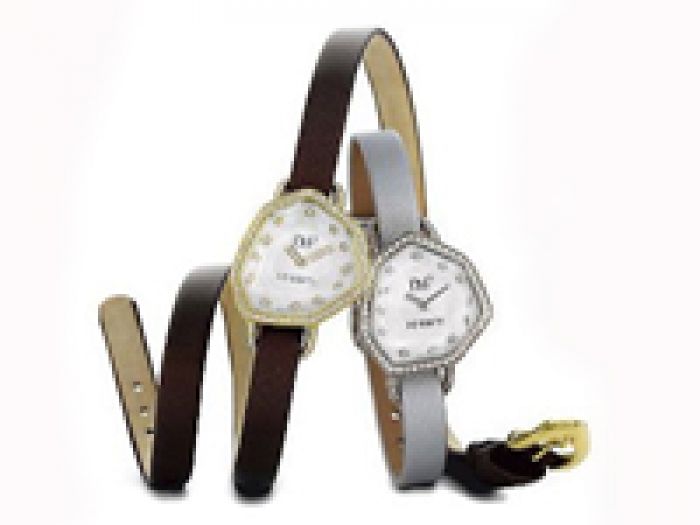 Luxury Watches:
Since the beginning of their collaboration in 2005, Roberto Stern (creative director at H. Stern) and Diane von Furstenberg have released a line that has seen success worldwide. The elegant yet modern shapes of the pieces have attracted attention in the fashion world along with quite a following among celebrities.
The titans' most recent endeavor is the Sutra Watch Collection. A design captivating to the eye and made of the finest materials available, each watch face is adorned with clear sapphire-crystal. To add to the asymmetrical shape of the watch itself, each crystal is multi-faceted by hand to give each watch a unique character befitting the designer. The watches come in black or white with a triple-looping calfskin strap.
The Sutra Sport is perfect for the everyday; a little high-end, modern elegance to pull together your outfit. But if you're looking for something a little more night than day, the Sutra Watch Collection also includes the Sutra Diamond Watch. These pieces are as exquisitely designed as their sister watches, but with that added sparkle: diamonds and lots of them (101 to be exact). Fitted with the same handcrafted multi-faceted sapphire-crystal face and triple-looping strap, the diamonds are that little (but very desirable) extra touch, taking a modern addition to your watch collection and making it a highlight in your jewelry collection.
And finally, for those a little more whimsical yet still in touch with their design-conscious side is the elegant and fun Sutra Pendant Watch. Hanging on the rich 18k yellow gold chain, the crystal face dangles, clipped to the chain. With a little more versatility than is usually expected from a necklace, the watch can also be worn clipped on to the Sutra Bracelet, making it a beautiful and functional charm.
True to the nature of the jewelry collection (the stunning Rock Crystal Bracelet and Crystal Power Ring only a couple examples), the watches were designed specifically with the jewelry line in mind, so together they form a seamless collection built on the continuum of modern angles but classic ideals.
The watches range in price from $1,500 to $10,000 on the designer's Web site, some of which have to be pre-ordered to ensure their availability due to their overwhelming popularity.
When is it best to pamper yourself with exquisitely designed, exclusive pieces? There's no time better than the present. For information on the line and a list of stores where you can find it, visit
dvf.com
.
For LxM Kate Phihoda