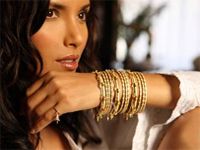 Fine Jewelry:
Model, TV personality, author, and food connoisseur, Padma Lakshmi has just debuted her fine jewelry collection entitled, PADMA.
Born in India, but raised between both India and the US, Lakshmi has lived in France, Spain, and spent much of her 20s in Italy, influencing her jewelry collection and making it as eclectic as her life.
Padma explains, "I love the rich heritage and beauty of traditional Indian jewelry, but I wanted something more modern and delicate. I also wanted to create something that women would love to wear everyday; pieces that work with jeans and cocktail dresses, jewelry that highlights the myriad sides of a woman's personality without upstaging her."
The collection bridges the gap between East and West, as well as Padma's love of both fashion and food.
"For me, whether it's food or fashion, it's about taste; about curating the best of what I've hunted and gathered from around the world to create something beautiful for the senses," says Padma.
The collection features delicate details inspired by staples of Indian cuisine: seeds and pods, such as cardamom, lentils, and cloves.
"In hunting for the most precious spices, I found the shapes of seeds and pods exquisite, a purity of proportion and form that had an inherent sensuality to them," says Padma.
In the collection Padma borrows from her native culture, introducing a hand piece that is as wearable as it is a great conversation starter. The collection also has a mini-collection, entitled "The Nav," based on the ancient Hindu philosophy of balancing a person's life force (prana or chi) by wearing a collection of nine specific stones (the navaratna) that represent and harness the energies of nine planets to the greatest benefit.
Amongst other unique offerings in the collection is the "front to back" necklace. Designed to cascade down the back, as well as the front, the piece fulfills the designer's philosophy of enhancing the female form.
PADMA debuts this month at Bergdorf Goodman, New York. The exquisite collection of cuffs, necklaces, and rings, range from approximately $300-$6,000.
For LxM Carly Zinderman