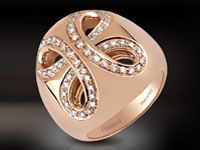 Fine Jewelry:
Damiani brings more than 80 years of high quality experience to the table in their ultra-luxe and extravagant designs. Their most recent collections feature a staggeringly bright diamonds such as in the Ruban Collection, and the Angels & Demons Collection designed specifically for the film based on Dan Brown's novel (which comes to theaters May 15th), which makes use of the richest metals available.
With 18 Diamonds International Awards (the design world's equivalent of the Academy Awards) Damiani's role in the jewelry industry is undeniably one of the highest respect and utmost luxury. Outshining thousands of other jewelers, worldwide, to win the award for best diamond jewelry 18 years in a row is no easy feat, but Diamani's incredible standard for technique and quality of materials clearly outshines all the others.
Damiani's several new collections can be found at their boutiques and authorized dealers all around the world. They have received critical acclaim from the industry as well as their collector and celebrity fans.
The Ruban Colleciton, one of their newest, is being advertised by model and fan Sharon Stone. The collection consists of the sleekly composed and diamond encrusted rings, showcasing the feminine side in today's modern and sophisticated, yet still elegant, woman. Also part of the Ruben Collection are the pink and white gold pendants that hang on two delicate chains. The pendants are the same design as the rings (which also come in pink or white gold) including the many dazzling diamonds adorning the surface. To complete your look are the earrings: two immaculately set and glistening studs that tie together the collection seamlessly.
For their collaboration for the film based on the bestselling novel by Dan Brown, Damiani created a collection of crosses, rosary beads, and necklaces inspired by the pieces made for the movie. Bright yellow and rose golds are set in steep contrast with onyx and enamels, exuding glamour and fine craftsmanship.
The timeless yet modern pieces by Damiani have been adding sparkle to fans of the high-design jewelry for almost 90 years now, and their newest collections speak to the beauty in simplicity: simply classic and simply dedicated to quality.
For
JustLuxe
Kate Prihoda