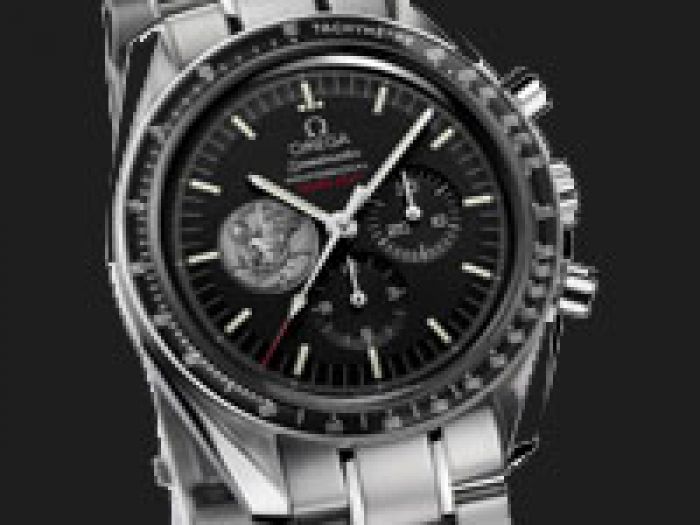 Fine Watches:
Since its first wristwatch in the year 1900, Omega has been setting the bar, along with making history, for the world of watch making and design. In addition to being the leader in timepiece technology, Omega has been at the forefront of one of America's greatest achievements.
At 2:56 GMT on July 20th, 1969, Buzz Aldrin took man's first step on the surface of the moon and on his wrist was the Omega Speedmaster. Now, in celebrating the 40th anniversary of the first moon landing, Omega is releasing the Speedmaster Professional Moon Watch Apollo 11 "40th Anniversary" Limited Edition.
Omega's Speedmaster chronograph was first "flight qualified" by NASA for all manned space missions on March 1st, 1965. It was the only wristwatch to ever withstand all of the U.S. space agency's tests of zero gravity, magnetic fields, extreme shocks, vibrations and temperatures ranging from -18 to +93 degrees Celsius.
Being the watch that recorded man's first steps on the moon, and the only watch to be worn on the moon ever since, secures Omega, and the Speedmaster, a prestigious spot in history.
To commemorate the anniversary, Omega has revitalized the famous timepiece. It has been upgraded to include Omega's patented screw and pin system but is still powered by their famous caliber 1861, the same movement used in the original Speedmaster Professional Moon Watch.
The black dial still remains but with a few key differences. For example, the small seconds counter has been created in the form of a small medallion featuring an adaptation of Apollo 11's mission patch: an eagle descending to the lunar surface with an olive branch in its claws, the earth hanging in the distance.
The hour, minute and red-tipped chronograph seconds hands are coated with Super-LumiNova and the dial is protected by Hesalite, the same powerful, shatter-proof acrylic crystal found on the original Moon Watch.
Finally, stamped on the caseback is the Apollo 11 "Eagle" mission patch along with the words, "The First Watch Worn on the Moon", the limited edition number (0000/7969), and "July 21, 1969," the date which Armstrong and Aldrin stepped onto the moon at 2:56 GMT, the time which is printed on the dial.
Immortalizing the greatest scientific adventure of all time, Omega places itself firmly in the timeline of human history by being present the first time man left the earth and walked on another celestial body. With their incredible standard of craftsmanship and dedication to luxury timepieces, collectors and fans alike will be itching at the chance to own this piece of Lunar history.
For
JustLuxe
Kate Prihoda