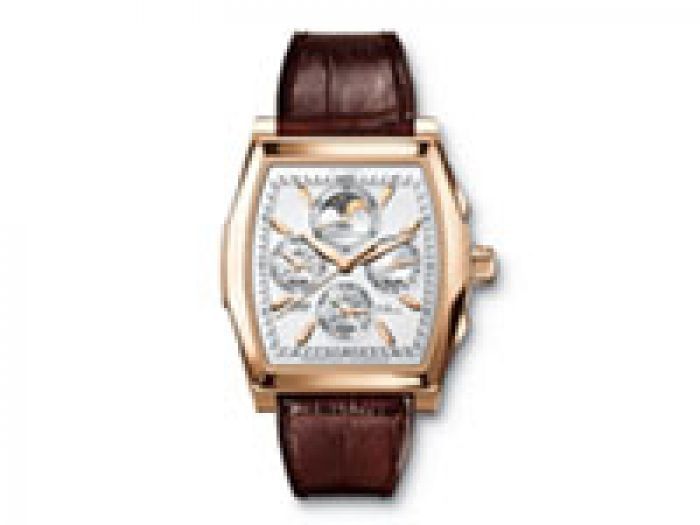 Luxury Watches:
For well over a hundred years, IWC has been creating timepieces fit to be considered works of art. Since the company's founding in 1868 by Florentine Ariosto Jones, International Watch Co. has been producing watches of an unparalleled quality, changing the face of watch making.
Hailing from Boston, Jones looked to Switzerland to make his fortune and chose the small town of Schaffhausen as the base for what would become his historical company. By pairing with watch manufacturer and industrialist Johann Heinrich Moser, IWC helped Schaffhausen turn the corner and begin its trek into the Industrial Age.
Since then, more than 140 years have passed and this timepiece titan has reserved its strength and brought us some of the most influential designs in haute horlogerie to date.
Paying tribute to some of the earliest pieces ever released by IWC are the members of the Da Vinci Collection. Arriving in the digital age is the latest model added to the group, the Da Vinci Perpetual Calendar Digital Date-Month. Keeping the signature tonneau shaped case but adding the display of date and month in a large format digitally has reinvented the classic.
Not only has the company been busy innovating and integrating the digital age with classic elements, but also with bringing a new face to an old favorite. Back by popular demand, the Da Vinci Perpetual Calendar Edition Kurt Klaus returns, now in red gold 5N with a black dial.
The distinctive tonneau shaped case remains but houses the highly evocative color combination of warm red gold 5N and the dramatic black dial. This fifth edition of the Da Vinci honoring Kurt Klaus retains all the elements that made the first edition, released in 1985, so desirable. Once again, this watch bears the small signature of Kurt Klaus on the dial and the engraving comprising the portrait of the inventor on the back, with the limited edition serial number from 1 to 1,000.
With the unique attention to detail and exquisite materials, IWC has made a legacy out of dedicating its image to creating only the best. With a wide range of face size, design and ideal uses, you are offered a range of extravagant timepieces to fit any side of your personality: the adventurer, the traveler, the collector. IWC boutiques can be found among the luxury shopping in Beverly Hills and Las Vegas for your chance to add one of these horological masterpieces to your accessory collection.
For
JustLuxe
Kate Prihoda