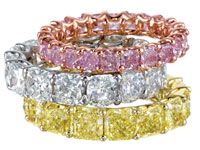 Fine Jewelry:
After only 10 years since the beginning of the brand, Daniel Koren has reached exactly what he aimed to achieve. After noticing a startling lack of luxury jewelry designs for women that could be worn both during the day and to events at night, he set out to create what would become designs favored by critics, celebrities and jewelry collectors alike.
Daniel Koren's creations for the Couture Collection are nothing short of flawlessly executed sights to behold. Made of only the finest polished and cut stones, Daniel K's gem selection process is just as exclusive as the crowd lucky enough to wear the pieces.
Handcrafted entirely from brilliant white, fancy yellow and pink diamonds, each piece is a one-of-a-kind design that falls into groupings that include classic and fashion necklaces, bracelets, rings, earrings and pendants, as well as the breathtaking engagement rings.
True to the brand's incredible attention to detail, some of the designs take up to a year to complete. The use of platinum, the most durable of precious metals, gives each of the unique pieces an heirloom quality, allowing it to retain its brilliance for generations.
In addition to using the highest quality materials in each of their designs, one of the collection's iconic and signature elements is the Uternity band, which features cutting edge and Daniel K's copyrighted platinum "U" mount. Open on the sides, the mount allows a full view of the diamonds, letting the brilliance of each handset stone to be perfectly revealed all the way around the band.
The elegance of each piece is complimented by Daniel K's dedication to creating a fine product, with only diamonds that receive the highest industry grading and precious metals that will stand the test of time.
With components like the astonishing Fancy Yellow Cushion Suite, which consists of a necklace, bracelet, earrings and a right hand ring, it's no wonder why Daniel K has seen such immense success. The necklace alone carries an incredible 90.07 total carat weight. The total carat weight for the group? An outstanding 146.81 carats.
Since launching the brand in 1999, and his first fashion pieces in 2003, Daniel Koren has continued to design exceptional pieces perfect for extravagant outings as well as everyday wear, and with the latest addition of the Couture Collection, Daniel K has once again raised the bar of exceptional jewelry design.
For
JustLuxe
Kate Prihoda
Daniel K Jewelry
Daniel K Jewelry
Daniel K Jewelry