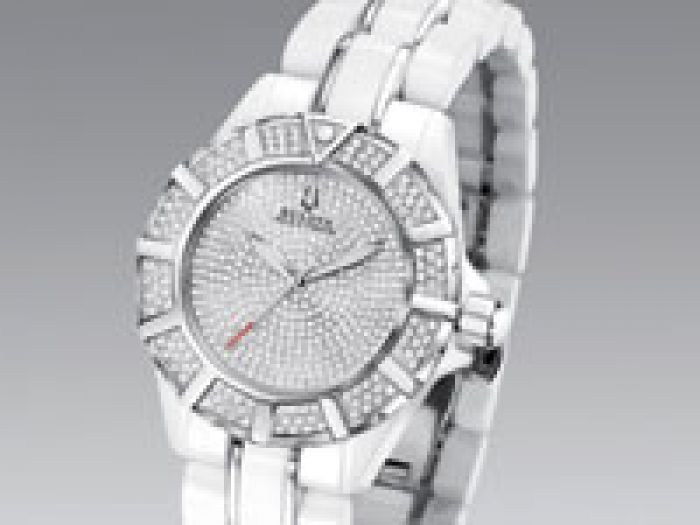 Luxury Watches:
Bulova Accutron combines their knowledge and understanding of the latest technology with an unparalleled eye for up-to-date aesthetics and trends.
Through the use of only the finest materials, techniques that have been researched and perfected over the decades and the industry's leading technology in movement, each timepiece released by Bulova Accutron benefits its wearer with precision accuracy and beauty.
Bulova Accutron's newest addition to the Mirador Collection brings the sporty timepieces to a level of true extravagance and luxury. With the same technology that has made the brand a leader and innovator of the industry, their new designs continue to raise the bar of excellent watch making.
The white ceramic and stainless steel bracelet is reminiscent of its sister watches in the collection: one in the same white ceramic and another in feminine pink. But where the others stop at just 39 diamonds set on the case, the new design soars with an incredible 652 individually hand-set pavé diamonds.
Sporty touches such as the rotating bezel, screw-down crown and screw-back case remain to tie the new watch to Mirador's existing pieces, but giving you the choice of elevating your all-day style timepiece to a level appropriate for day-to-night wear.
With almost 135 years behind it, the Bulova Corporation has tirelessly pushed the envelope of watch making to places no one thought possible. Founder and father of the brand, Joseph Bulova, began selling and designing timepieces from a small jewelry shop on Maiden Lane in New York City in 1875 and watched as his brand accomplished extraordinary feats.
Accutron's innovation has covered the spectrum, from ingenious creation of Accutron, the world's first electronic watch, to changing the way customers acquire lavish timepieces with time-payment plans, and the brand shows no signs of stopping. You can be sure that each new design will be more remarkable than the last while the brand continues to change the way we tell time.
For
JustLuxe
Kate Prihoda