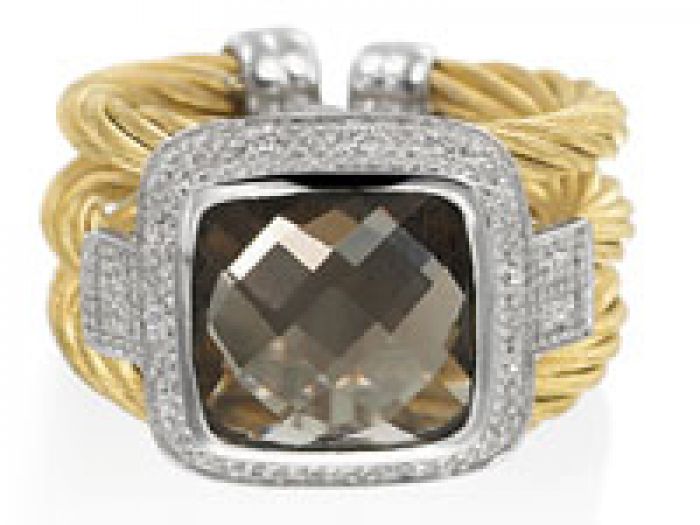 Fine Jewelry:
After 13 years as President of Les Must de Cartier in the Asian and North American subsidies, Philippe Charriol sought to create his own brand and bring with him his experience in the field of affluent jewelry and timepiece design.
What he created was a brand aligned with himself: sophisticated and quality-conscious while still sporty and daring. His first line of watches and jewelry caused quite a stir, so he went on to create an entire product line inspired by the twisted cable designs of the ancient Celts, which is the look that now defines the immensely popular and acclaimed Charriol.
This year, the brand looks to expand and evolve the look once again, keeping it always fresh and relevant to the time. With the addition of yellow PVD and natural colored gemstones, Charriol adds both the rich gold hues as well as the more relaxed, neutral hues to the Classique collection.
Instead of copying the look of the ancient Celts, Charriol brought the style into the 20th, and now 21st, century. By replacing the precious metal with stainless steel cable and enhancing the grey metal with the warmth of 18k yellow gold, the look was instantly updated and transformed into contemporary, top-tier accessories.
The previous pieces in the Classique collection featured the sleek look of the twisted stainless steel cables and the rich yellow gold, all topped off by shimmering diamonds. This year, however, the collection gets shaken up by the addition of the yellow PVD and the use of colored gemstones for the first time.
Now, the collection has a rounder feeling, including the always stunning stainless steel and yellow gold bangles, rings and necklaces as well as the more casual yellow and black PVD bangles with the easily-matched gemstones. The natural tone of the gems make the jewelry luxurious little add-ons to your everyday outfit, so you don't have to leave exclusive pieces behind on your day-to-day errands.
Available in smoky quartz, lemon quartz and yellow citrine, each piece compliments both a woman's feminine, designer side while adding that daring and different accent to her look.
Charriol is evidence to the industry that what was once a classic will always remain a classic, as small alterations and additions can keep a look relevant for years to come. The newest designs in the Classique collection will be available at signature Charriol boutiques and select fine jewelers around the US this fall.
For
JustLuxe
Kate Prihoda