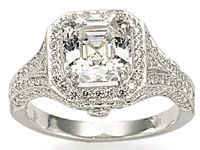 Fine Jewelry:
The intricate and unique designs by Penny Preville have been garnering recognition and awards, as well as quite a following amongst collectors and celebrities alike, for decades. Preville's eye for detail and feminine elements is what has her pieces standing out from the rest in the industry, and this summer, she has released a much-anticipated collection.
Due to the popular demand by her fans and collectors, celebrated jewelry designer Penny Preville has debuted her first engagement ring collection. For years, brides have been donning Penny Preville diamond right hand rings as engagement rings. Their inherent femininity and unique design made them ideal for the romantic statement of an engagement ring, and now, finally, Preville has designed the lines so many brides-to-be have been looking for.
Making up the stunning collection are six, individually designed and conceptualized engagement rings. Behind each ring is a story or symbolic motif that influences its design, making each piece entirely unique and independent of the next.
Some of the rings are products of very special commissions, one of which began when Preville's oldest son asked for a special ring to propose to his college sweetheart, Mara.
Therefore, the design work on the Mara Ring was underway and the end result is a breathtaking ring featuring the Art Deco shaped Asscher cut diamond. Two leaves parting on the band surrounded by side stones and many small diamonds made it ideal for Mara as well as any delicate and elegant bride with simple, understated style.
After the creation of this ring, Preville was asked to create a variation on the classic round brilliant cut solitaire six-prong setting. What Preville produced is most likely the most stunning of the collection: the Liat ring. The ring features the center stone set in an ornate engraved basket with six-prongs sitting atop a thin band, but what makes the ring special is the metal: the clarity of the diamond is highlighted by the warm, pink gold mounting.
Aside from the two stunning commissioned designs, Preville went on to create rings around some of the most famous and well known love stories of our time. The Juliet ring honors the heroine of Shakespeare's play with an ivy leaf sprouting from a round brilliant cut diamond center stone, symbolizing both connection and growth between the couple, while the Aphrodite ring displays a pattern of crossover lines around the band, recognizing the commitment but ever-present individuality of a husband and wife.
Penny Preville's designs have been featured repeatedly and hailed as the ideal jewelry to wear down the aisle. Join the ranks of Preville's fans such as Oprah, Sarah Jessica Parker and Nicole Kidman by adding some of the stunning designs to your own collection.
For
JustLuxe
Kate Prihoda