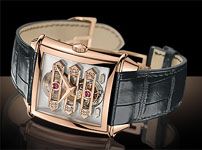 Luxury Watches
The rich history of the tourbillon escapement as well as its high level of difficulty to assemble lends all watches with the mechanism an air of prestige, making them icons of fine-tuned craftsmanship and scrupulous attention to detail.
Girard-Perregaux, a brand of world renown and a leader in the industry, has perfected the art of crafting the complex movement. After devoting long years to studying various escapement systems, Constant Girard-Perregaux fell on the tourbillon escapement and put his knowledge and experience to making it his own.
Today, the tourbillon with three gold bridges has not only become an icon for the brand, but for tourbillon escapements as a whole. By redesigning the three bridges that hold the movement wheels into the shape of arrows and setting them parallel to one another, the barrel, wheel train and the tourbillon all lay on the same axis. In this way, Constant achieved a movement that was not only a technical and functional element, but a design element in its own right.
The tourbillon was first created to compensate for the effects of gravity on a mechanical watch. At the time it was invented, pocket-watches were quite common, but due to the frequent variation of their position, sitting flat on its back in the palm of the owner when being read and resting vertically in the pocket when not in use, for example, pocket-watches were often less accurate than their free-standing counterparts of the time.
Because of this, watchmakers eagerly set out to remedy the problem, which brought us the tourbillon escapement. It houses the mechanism in a cage that rotates on its own axis, which counteracts the long-term effects of gravity on the watch and produces a very constant average rate.
The Tourbillon with three Bridges family welcomes a new member this year with an assertive personality. The new Vintage 1945 Tourbillon with three gold bridges houses the uncommon three bridges in its sexy, curved profile inspired by Constant Girard-Perregaux's pivotal design in the 1860s.
Paving the way for this new masterpiece, the watch created in the 1860s won a first class prize from the Neuchâtel Observatory with its innovative aligned bridges. The rectangular shape and use of gold were still to come, however. Today, the watch is home to a 30-jewel movement with a power reserve of a minimum of 48 hours, all protected in the distinctive rectangular case. The spherical profile, with a slight camber, allows the watch to sit comfortably on the wrist, while a crown that is discreetly integrated into the case retains the balance of the soft lines of the timepiece.
The new Vintage 1945 Tourbillon with three gold bridges is both luxurious and exclusive, limited to only 50 numbered pieces. Girard-Perregaux's reputation for impeccably designed and superbly functioning timepieces is sure to make the Vintage 1945 the hot ticket item for collectors and connoisseurs alike.
For
JustLuxe
Kate Prihoda