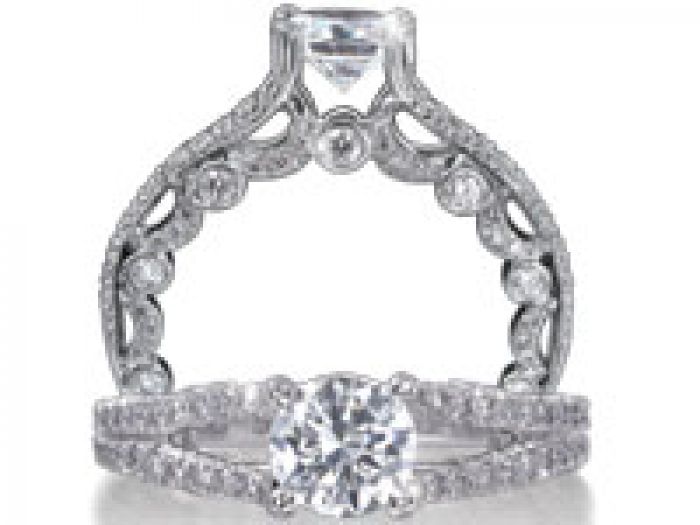 Fine Jewelry:
Engagement ring designs by Verragio have always retained an element of exclusivity due to Barry Verragio's unwavering attention to fine design and dedication to a rigorous quality standard. This summer, the brand's reputation for unparalleled and creative design continues with the addition of a new collection.
The revolutionary Lumino setting created by Verragio's seasoned designers has created a new way of looking at, and displaying, the stones of an engagement ring. The setting lifts the diamond up into the light, for ultimate brilliance. By minimally covering the diamond, it is allowed to capture 75% more light than in traditional settings, while giving the wearer the impressive view of the entire stone.
Combined with the inventive Lumino Setting is the elegant scrolling design implemented on the inside of the band in their Paradiso Collection. Studded with diamonds, the design is not only beautiful but practical as well. The scrolling design prevents the ring from spinning as well as providing absolute comfort by hugging the contours of your finger.
Verragio's achievements in luxury ring design have evolved this year to include the addition of the new Couture Collection of engagement rings. The sleek lines emphasize simplistic design and highlight the diamond displayed in the Lumino Setting.
Each ring is designed to accommodate anywhere from a classic round center stone to an asscher or radiant cut. A top-view of the rings shows a row of brilliant stones, either hugging the center stone on the band, or coming right up the sides of the Lumino Setting.
A truly unique element of the Couture Collection sits tucked just beneath the center stone. Each Couture Collection engagement ring includes a small, crown shaped bezel, featuring its own small diamond underneath the raised center stone.
In addition to providing unique engagement ring designs to brides, Verragio also designs matching wedding bands to match the bride's engagement ring and wedding bands for the groom as well.
By the end of the summer, the new Couture Collection of both engagement rings and wedding bands will be available at certified Verragio dealers, while they are already available for pre-order.
For
JustLuxe
Kate Prihoda