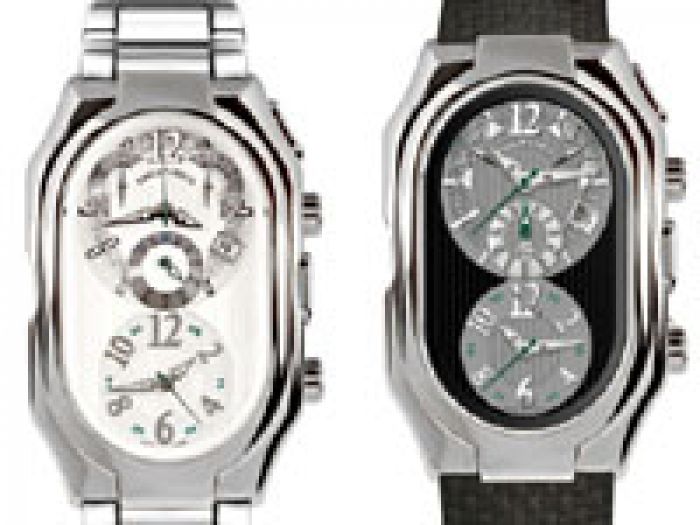 Luxury Watches:
By integrating natural frequency technology into luxury timepieces, Philip Stein has become a leader in mind-body wellness.
Philip Stein's timepiece collection includes a variety of looks all designed not only to look great, but also help you feel great. The specially crafted watches help balance the body's energy, known as Chi. In addition, wearers of the dual-time zone watches report better sleep, less stress and an improved sense of well-being.
New interchangeable straps allow customers to create a "strap wardrobe." An array of straps in different textures and colors, available at varying price points fits the faces of the Signature collection. Straps include a limited edition hand painted crocodile skin, five collections of textured and embossed straps, and an exotic Teju Lizard - a first for Philip Stein.
Philip Stein also recently introduced The Cocktail Watch. Designed to make the elegant woman look and feel good, thanks to natural frequency technology, the Cocktail Watch features pave diamond and mother of pearl dials in semi and full pave diamond cases, and is available with satin and silk straps.

As a lighter alternative to steel watches, Philip Stein introduced the special edition Titanium Chronographs for men this summer. Encased with the durable
titanium metal, the Titanium Chronograph features a spherical sapphire glass, oversized face with a black dial containing white and orange details and a stay-flat curved body, in addition to the natural frequency technology that makes a Philip Stein timepiece special.

"The men's special edition Titanium Chronograph and the women's Cocktail watch are the epitome of Philip Stein's 'all in one' philosophy of creating designs that look great and are embedded with our natural frequency technology that makes you feel even better," said Philip Stein President, Will Stein. "The company's vast array of new straps for the Signature Collection allows our customers to create a new 'Strap Wardrobe' so they may wear their Philip Stein timepiece at every occasion."

Using the company's latest Natural Frequency Technology in the new Active and Classic Collections, single time zone faces allow a broader range of customers to experience the benefits of Philip Stein.

For JustLuxe Carly Zinderman

Phillip Stein

Phillip Stein

Phillip Stein

Phillip Stein