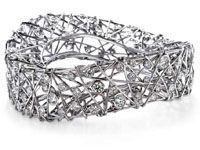 Fine Jewelry:
Acclaimed jewelry designer, Hearts on Fire, sent one of their most celebrated collections on a tour around the United States last year, visiting hotspots across the country. The Architectural Collection featured inspiration from some of the world's most impressive and breathtaking manmade structures from Beijing to Montreal.
The Hearts On Fire diamond selection process is beyond exclusive, choosing from only the top 1% of the world's gem-quality raw diamonds. The exceptional stones that "make the cut," so to speak, are then sent to the Hearts On Fire workshop where an elite group of craftsmen cut and polish the diamonds at 100x magnification...10 times the industry standard.

Hearts On Fire applies one of two unique cuts to their diamonds: the Hearts On Fire Diamond and the Dream Diamond. The former displays a perfect ring of eight hearts when viewed from the bottom and a perfectly formed symmetrical Fireburst when viewed from the top. The Dream Diamond is the only fancy-shaped diamond designed to meet Hearts On Fire's rigorous quality standards. Its unique performance and design is so exceptional that Dream was granted a U.S. Patent.

These spectacular stones are then either yours to purchase unmounted and uniquely serialized or showcased in the Jewelry by Hearts On Fire collection, or most recently, the Architectural Collection.

Beginning in Beijing, Hearts On Fire has honored one of today's latest and most impressive structures: The Beijing Olympic Stadium. Truly unique and eye-catching, both the bangle and ring designed to commemorate the stadium are unmistakable. Taking its inspiration from the intricate steel design, the bangle and ring feature a network of delicate, hand-wrapped white (or yellow) gold wire with up to 46 carats of luminous Hearts On Fire diamonds.




One of the other most easily recognizable structures embodied is the Sydney Opera House in Australia. Taking its cues from the soaring roofs and billowing sails of the Opera House are the swooping chains of Hearts On Fire diamonds (a breathtaking 640 in total) circle your neck on four descending levels. This singular, 76-carat showpiece echoes the monument's individual beauty and impact.

In addition to these masterpieces is the Sculptural collection; the pieces designed gather their inspiration from the iconic Chrysler Building in New York City. Among the sea of skyscrapers, the Chrysler Building sets the skyline apart, representing the city boldly. All five of the pieces reflect the building's majestic stature; for example, the cuff, made from an endless stream of Hearts On Fire diamonds totaling a lavish 68 carats, plays off the Chrysler Building's distinct lines, while the earrings and pendant mirror the building's seven-story pinnacle with tapering rows of stones.

The collection traveled to cities that are home to structures that inspired pieces in the collection, allowing the lucky viewers to get a glimpse of both the piece and the influential structure. The stunning collection pays homage to Heart on Fire's impeccable craftsmanship and shines a new light on architecture as inspiration.

For JustLuxe Kate Prihoda

Boundless Tokyo

Ceremonious Beijing

Convergance London

Culmination Chicago

Encapsulate Montreal

Legendary Boston

Sculptural New York

Virtuoso Sydney