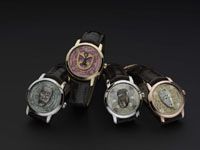 Luxury Watches:
Vacheron Constantin and the Barbier-Mueller Museum have joined forces in changing the face of haute horology. Inspired by the ancient art of tribal masks, Vacheron Constantin has introduced its latest four-piece series in the Métiers d'Art Les Masques collection.
Each year, Vacheron Constantin has revealed its superb craftsmanship to the world with the annual release of Métiers d'Art. Only 25 sets are produced each annually, adding to the collection's value and exclusivity. Each individual timepiece in the Métiers d'Art Les Masques collection provides a remarkable representation of primitive art, spanning over 2,000 years and four continents.
Utilizing an automatic Calibre 2460G4 movement, time can be read without any hands, which allows for precise placement of the showcased mask. A special technique involving transparency and specially-treated glass creates the illusion that the masks are floating, suspended within reach. Implementing a custom metallization process, each sapphire crystal gives off a distinct tint designed to illuminate the color of that particular mask.


Each mask offers its own story, which is told through short poems in prose written by Michel Butor. The words circle the sapphire dial in letters of gold and spiral in such a way that they can only be read when the light strikes from a certain angle.

The latest series of watches are fashioned after four exceptionally crafted masks from the Barbier-Mueller Museum, including a Facial Mask from Indonesia, a Zangs Bag Facial Mask from China, a Pendant Mask from Mexico, and a Ngontang Mask from Africa.

For JustLuxe Christina Stewart

Métiers d'Art Les Masques

Ngontang Mask from Africa

Zangs Bag Facial Mask from China

Facial Mask from Indonesia

Pendant Mask from Mexico