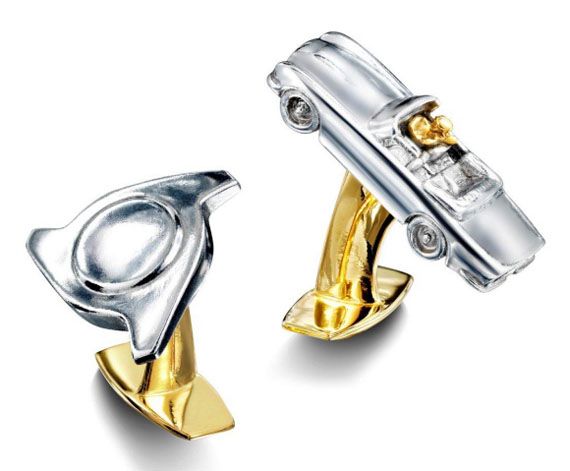 Cufflinks: It's good to be the Prince of Wales. You can convert your car to run on wine, which is just what Prince Charles did with his 1970 Aston Martin DB6 Volante, a 21st birthday present from his mum, Queen Elizabeth II. But whenever you mess around with cars, there are sure to be a few seemingly useless parts leftover.
Which is where London-based TMB Art metal comes in. The makers of "provenance" items fashioned from actual bits of automotive, aeronautic, locomotive and maritime icons have taken the original aluminum engine pistons from the luxury vehicle and transformed them into 200 pairs of cufflinks in two designs, as reported by
Duncan Quinn
.
The cufflinks are made of 18k gold, one fashioned to look like an exact, miniature sculpture of the DB6 Volante, the other replicates the car's iconic wheel spinners. Each set comes with a certificate of authenticity and is priced at £995 or about $1,600, with all profits going to the royal's youth charity, The Prince's Trust.
One man's trash really is another's treasure, now isn't it?